Bitter oranges
The reality that the industry does not want you to see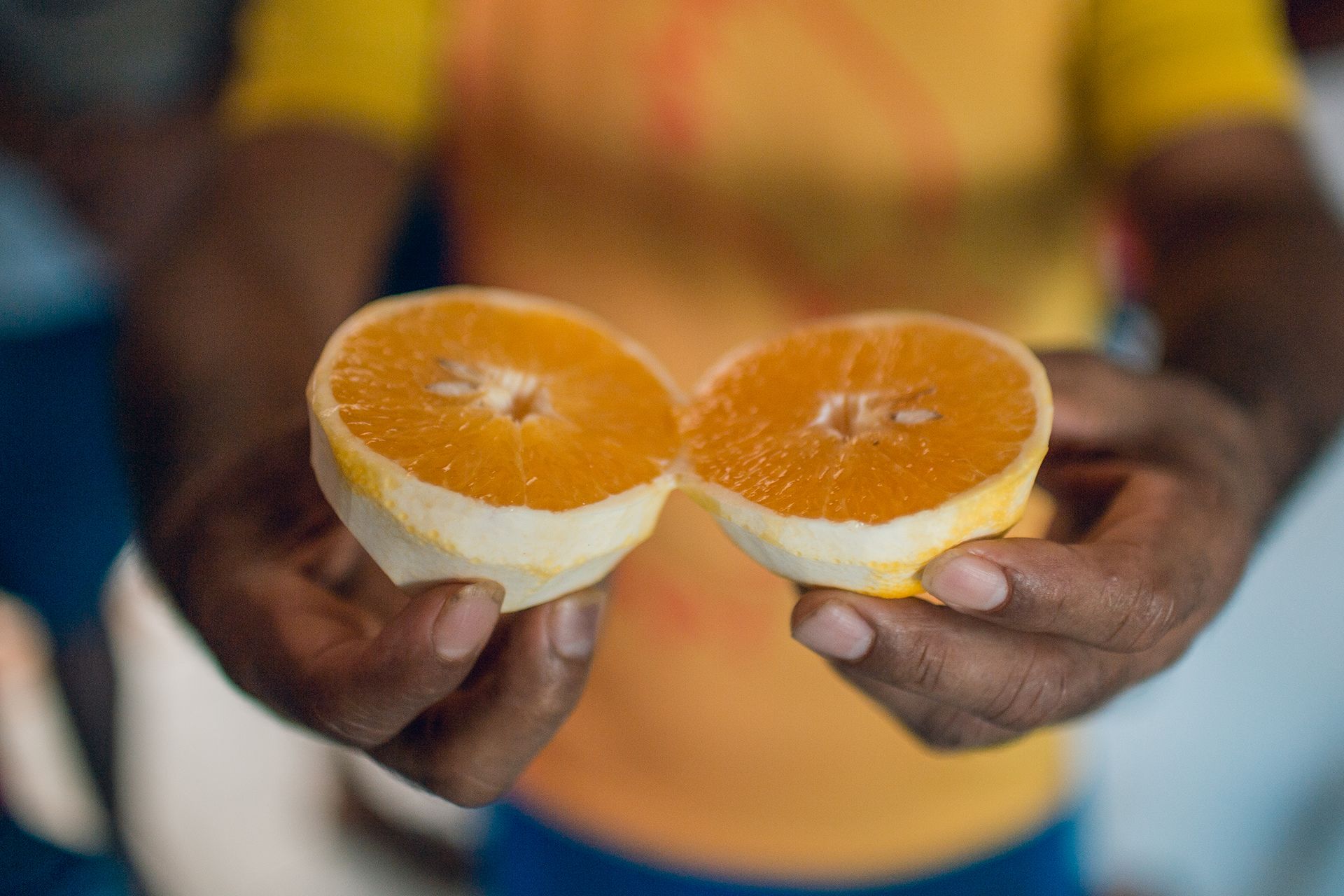 Brazil is responsible for a large part of global orange juice production. While the coronavirus crisis is paralysing half the planet, the pickers toiling in the endless rows of orange trees in the state of São Paulo are sliding further into precarity. The research we conducted just prior to the start of the pandemic brings to light the deplorable working conditions of those harvesting oranges for Louis Dreyfus Company, the Swiss-based orange juice trader.
Three peeled oranges are on the metal table, but Aarão* will not be eating any more of the bitter fruit. Leaning against a wall of the accommodation he shares with other pickers, he casts his gaze briefly over the empty room before composing himself in the presence of this evening's visitors. He will not be coming back.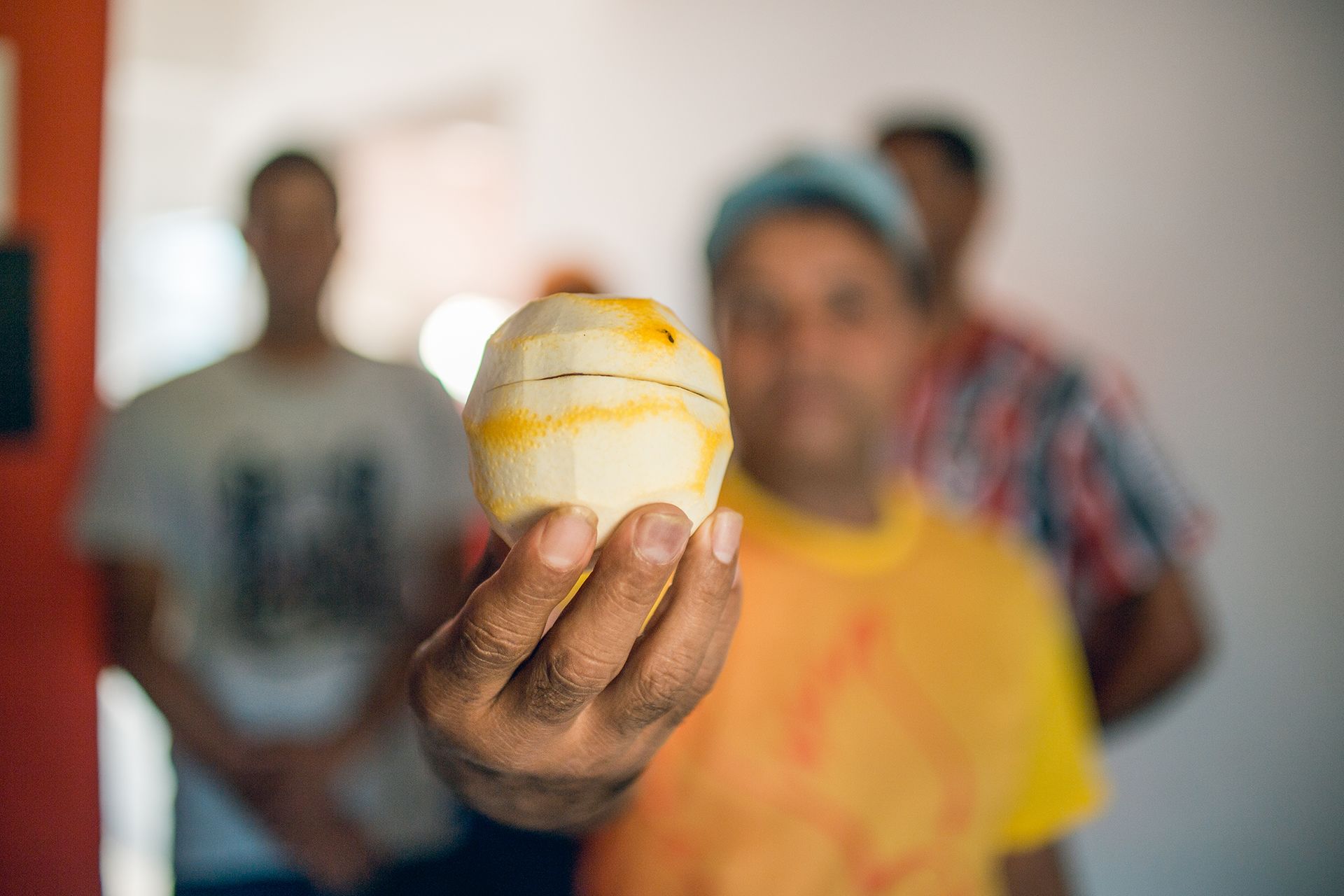 Like ten or so of his colleagues before him, Aarão has decided to quit to preserve his health, and because "none of this pays anyway". By "this", he means 11 months of working at a frenetic pace to collect 100 to 120 boxes per day, each weighing 27 kilos. This is equal to around three tonnes of oranges that have to be carried down ladders that reach up to five metres high under the scorching sun or pouring rain of the region of São Paulo. Estimated earnings at the end of the month: the most productive workers get the equivalent of 230 to 360 Swiss francs. Aarão is in no doubt that this will be his first and last safra, the Portuguese word for harvest.
This seasonal worker will put an end to his fleeting experience as an orange picker before the end of the month. He will try to get a return ticket from his employer, Swiss trader Louis Dreyfus Company (LDC), and travel the 2200 kilometers to reach his home region in north-eastern Brazil. Perhaps he will go back to working on a building site, which he says is "less risky".
Close to 200 violations of workers' rights by LDC in the citrus sector have been logged in the database of Brazil's labour inspectorate over the past 10 years, approximately half of which relate to workers' health and safety. In 2018, for example, the multinational was ordered to pay a fine equivalent to 122,400 Swiss francs, after an inspection five years earlier revealed that 34 employees had been living in a former hen house.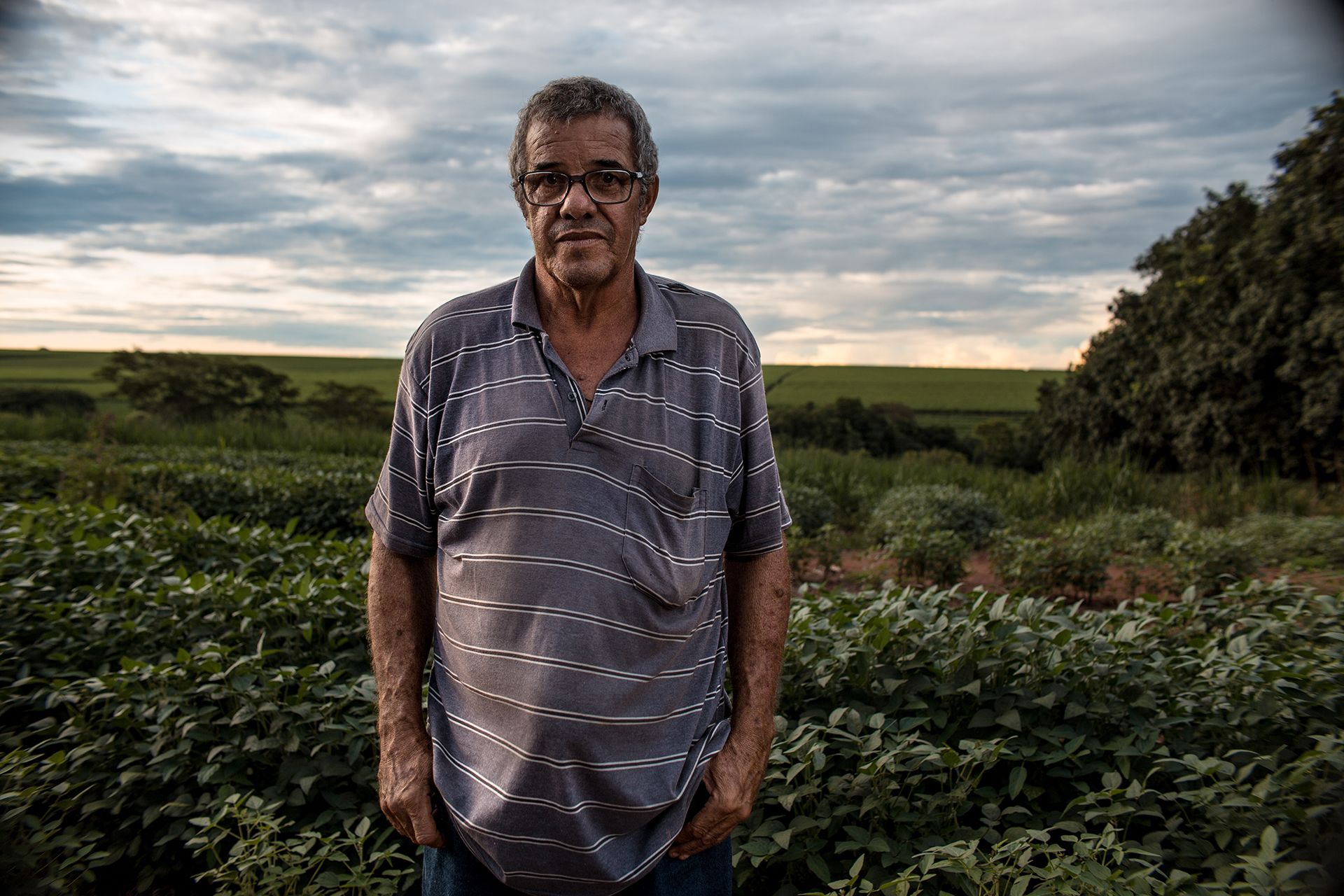 Saulo is a unionist. "In the past, you could make some money with oranges. Nowadays, you can't even make the minimum wage."
The worn-out equipment that workers keep next to the old mattresses they have to put outside, so that they can sleep in the stifling heat of the Summer nights, are a testament to the tough working conditions – boots with holes and spatter guards to protect against cobra bites, and sweat-drenched clothes bearing the LDC logo. Carlos* is, however, resigned to the situation. This man in his fifties – the oldest worker in the building – is due to sign up for his sixth safra, just after finishing the lemon harvest.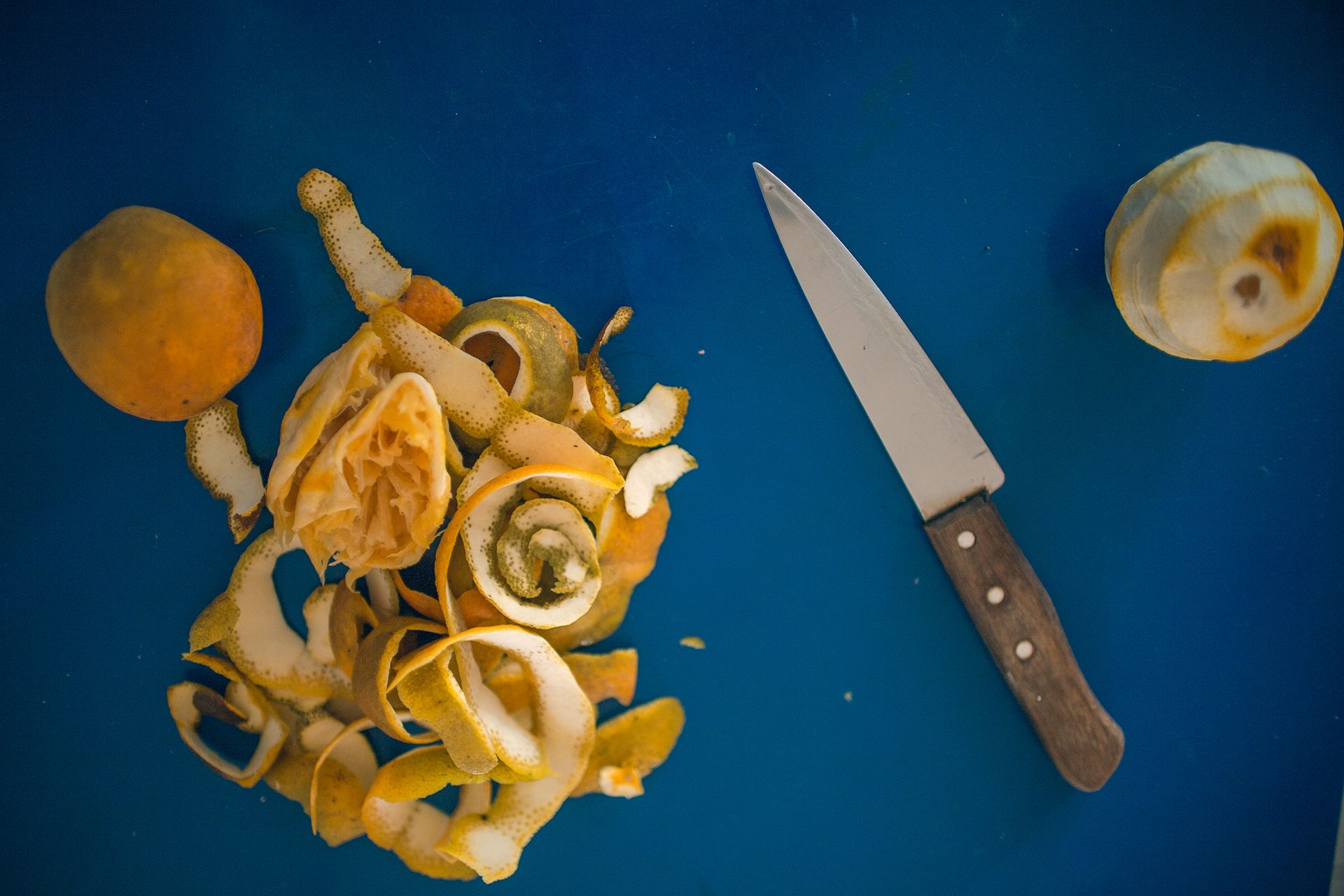 "Both these citrus fruits are bad [to harvest], but orange trees are less stable to climb. Thank God I've never had an accident", he sighs while peeling a fourth orange for his interlocutors with his arthritic fingers. They will not eat the bitter fruit either.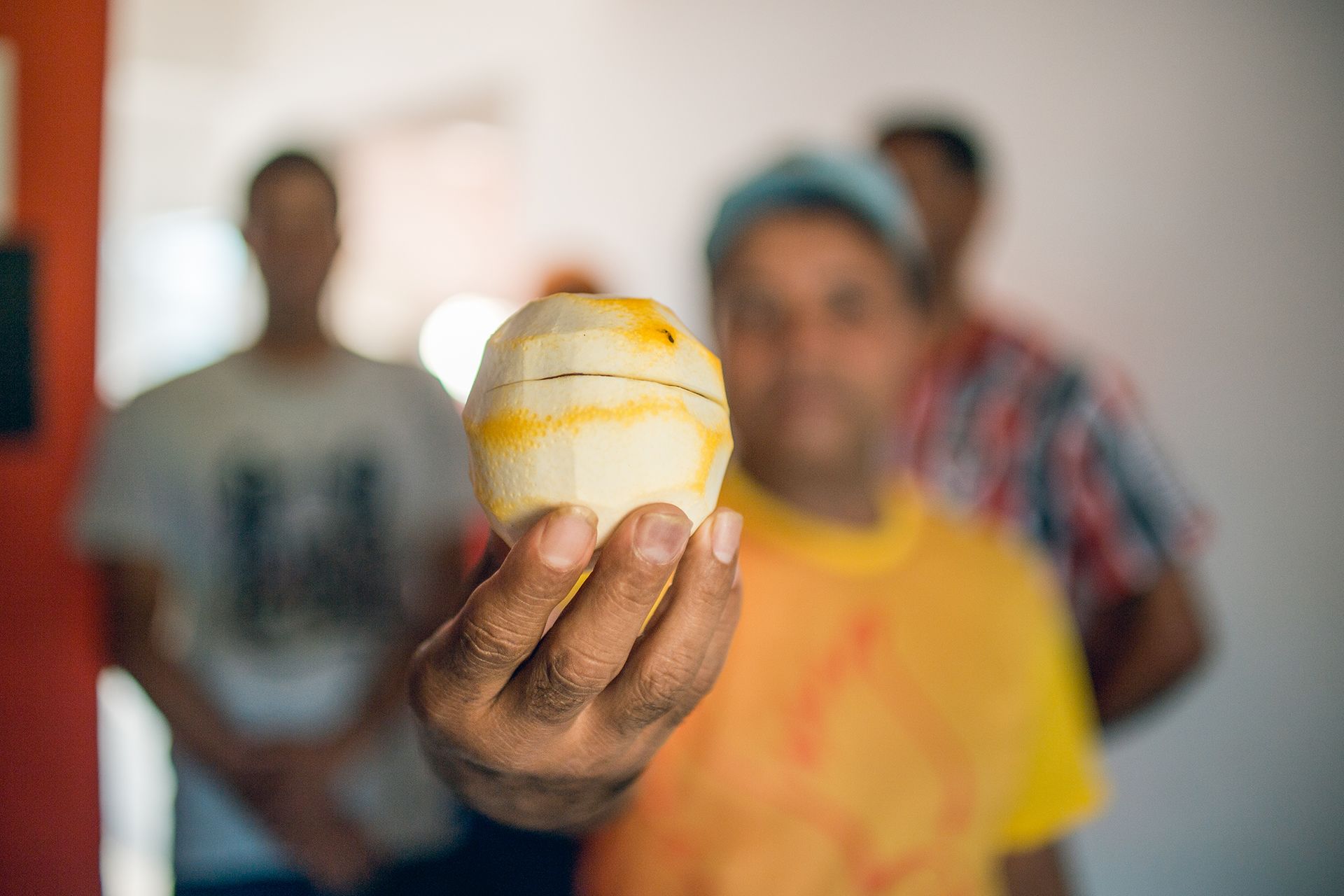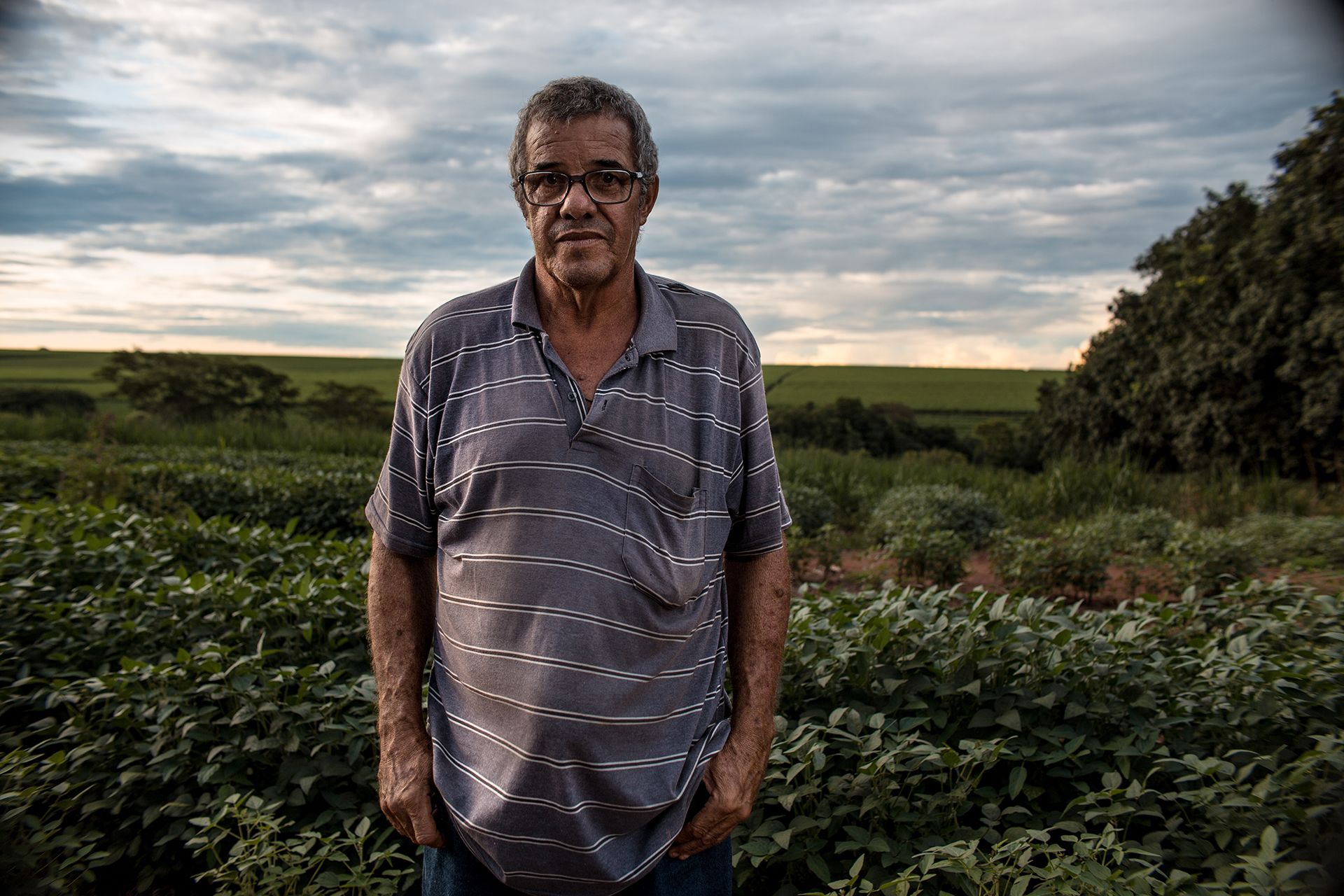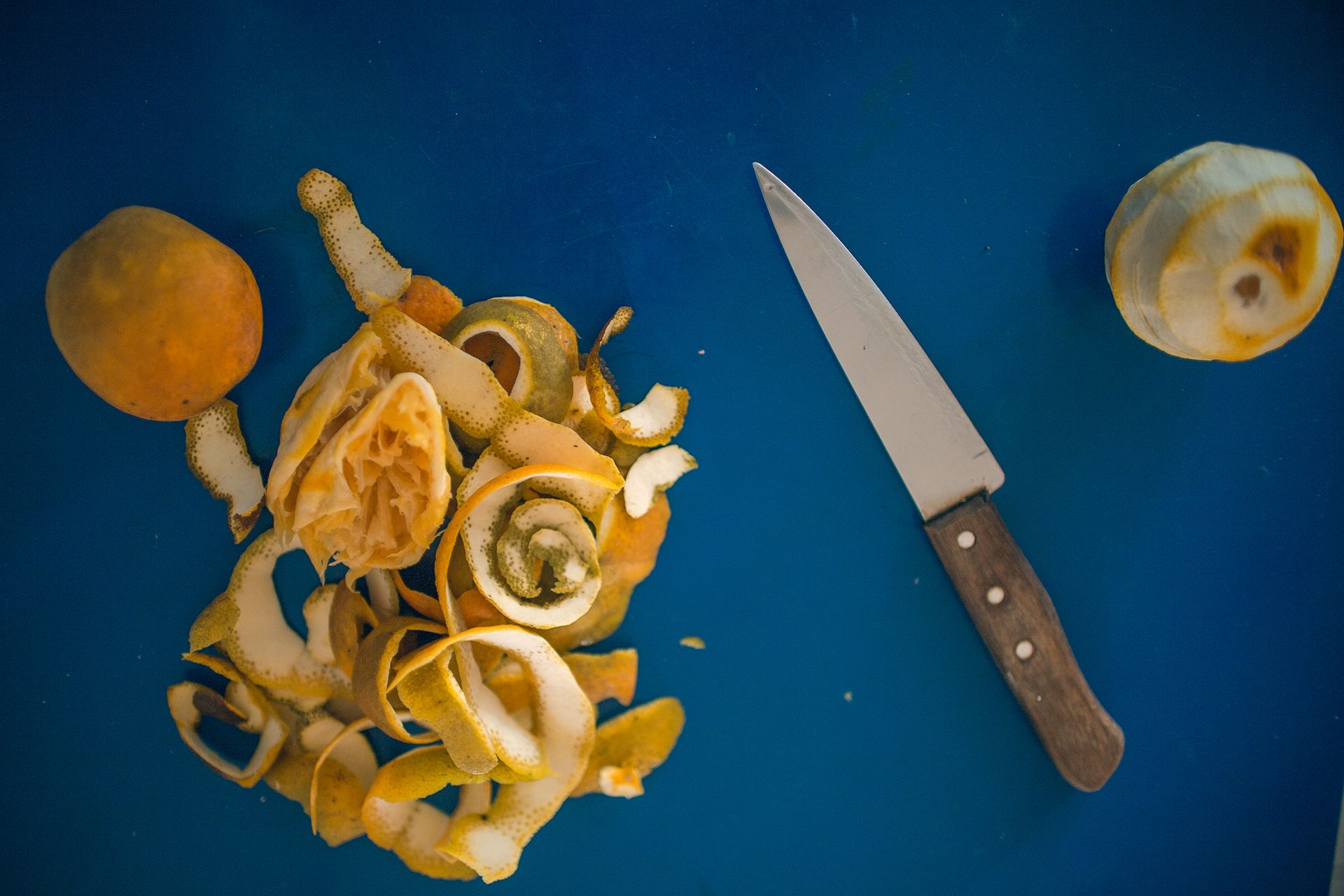 A closer look at the plantations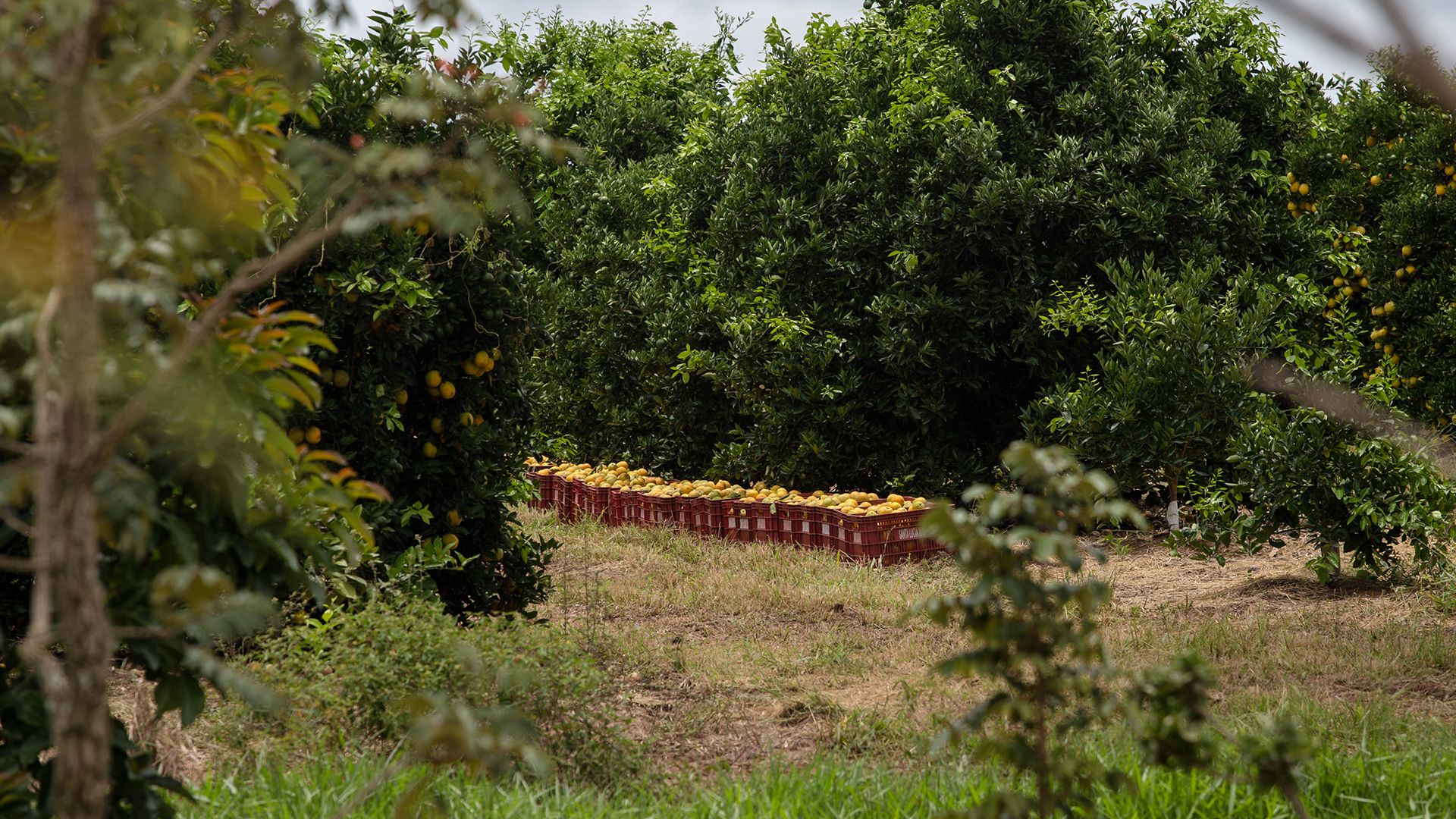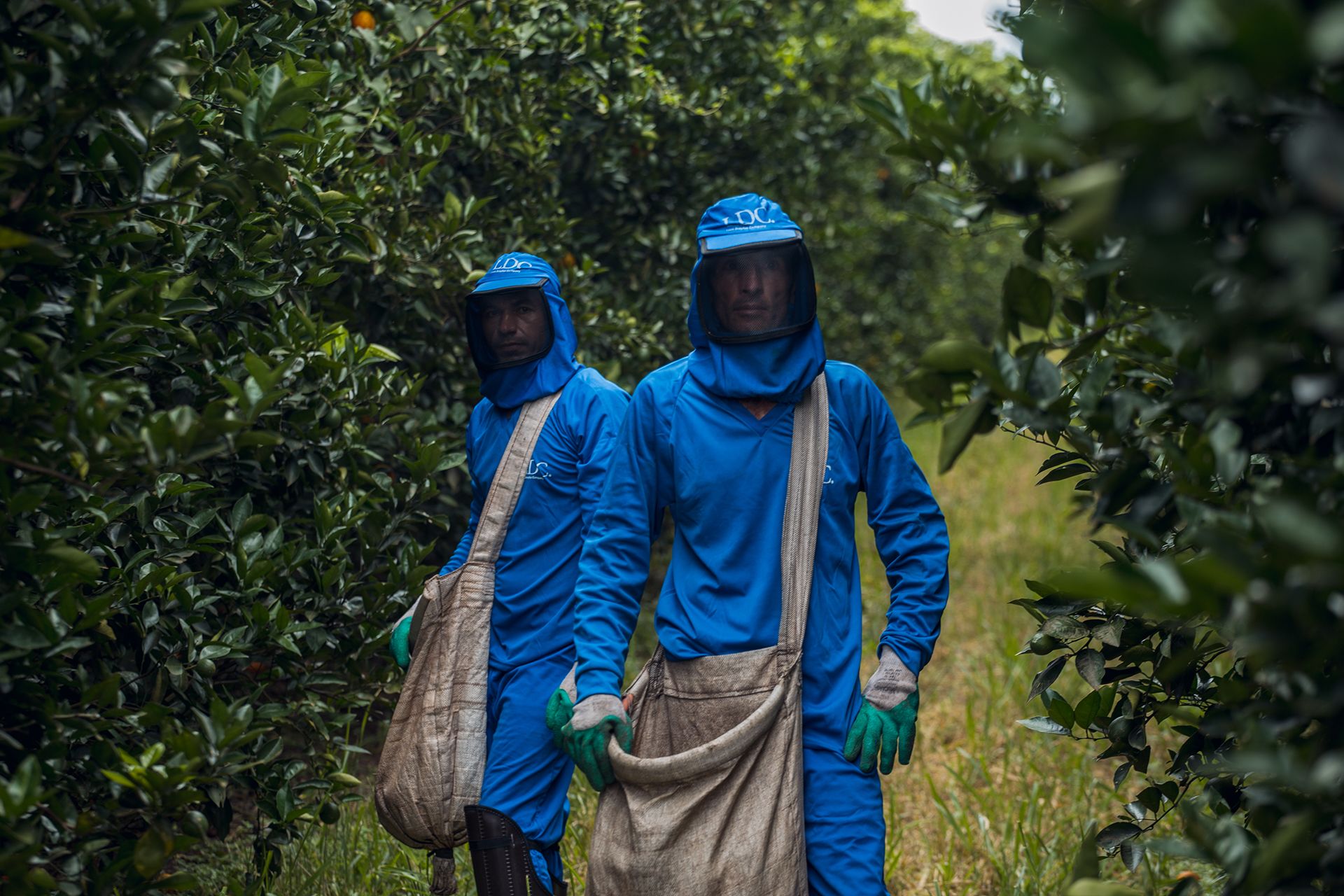 Pickers on an LDC-owned plantation.
Working conditions in the orange sector are harsh, that's for sure. And even in the face of the pandemic, the export association CitrusBR shows no signs of taking its foot off the gas. In April 2020, the association's director, Ibiapaba Neto, confirmed in an interview that the chain of production was functioning "normally" and that LDC along with the association's other two orange juice giants, Cutrale and Citrosuco, intended to remain "100% active" – no matter how much the coronavirus put the Brazilian health system to the test.
One would think Brazilian oranges are irresistible – their juice is found in over half such products consumed around the world. The region of São Paulo alone provides 80% of the country's output, nearly all of which is exported.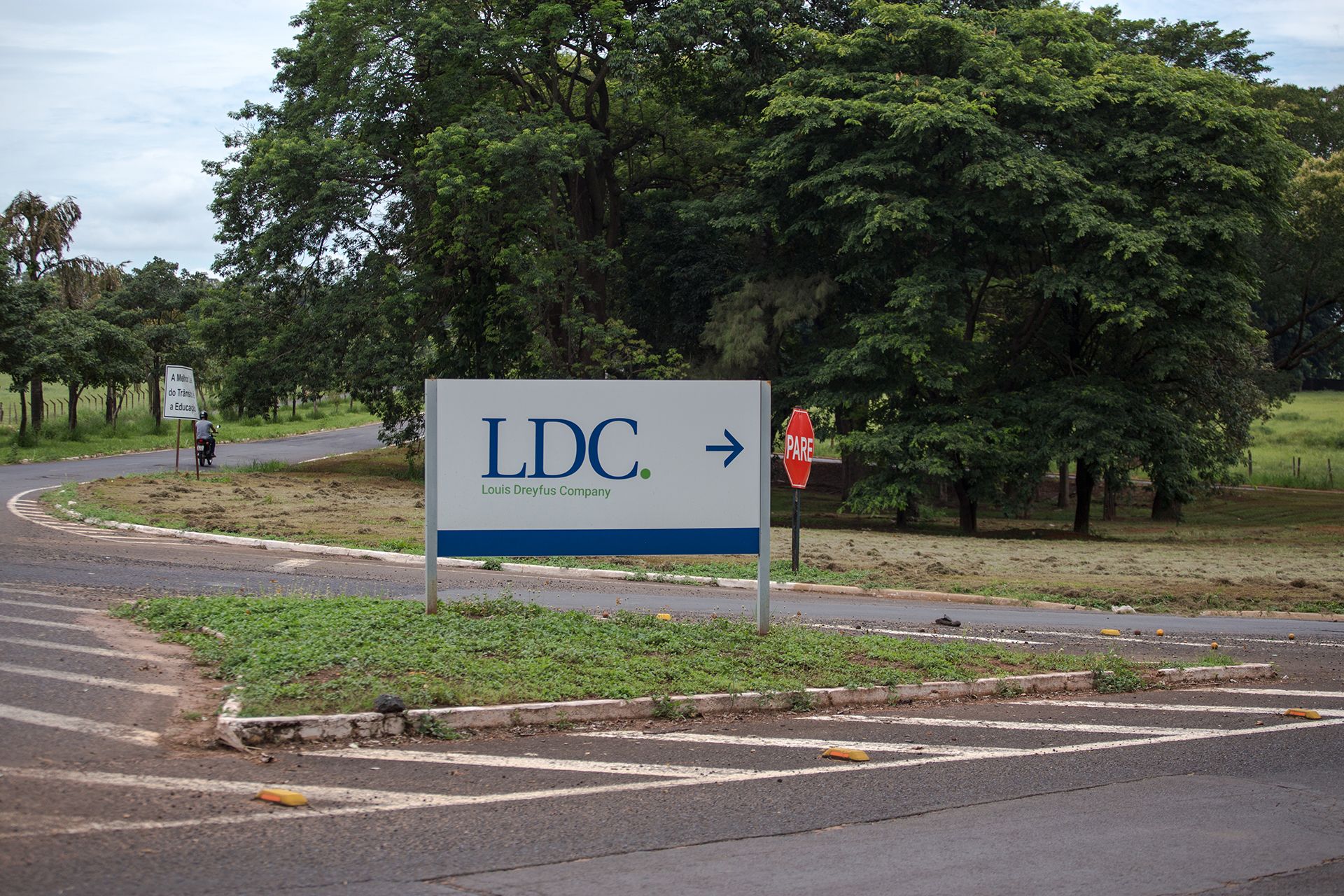 LDC manages 38 plantations in the Brazilian "citrus belt".
Previously only a trader, LDC expanded into orange production in Brazil in the 1990s and now manages its juice business from its operational headquarters in Geneva. LDC manages 38 citrus plantations in Brazil, which cover an area of over 25,000 hectares. According to information obtained from Brazilian LDC staff, half of the oranges LDC processes come from its own production, whereas the other half comes from independent suppliers.
All the oranges (the exact quantity is considered a commercial secret) are processed in the three factories owned by LDC in the region and exported as concentrate or pasteurised fruit juice to the world's main markets. There is no way of checking whether the oranges delivered to the processing plant in Bebedouro in the back country of São Paulo come from LDC-owned plantations or those of its suppliers. The multinational likes to talk about its blockchain-based project aimed at creating traceability of its orange juice. However, in response to our request, LDC declined to provide us with a list of its suppliers.
Together with Swiss trader LDC, the two Brazilian companies Cutrale and Citrosuco, have a global market share of roughly 75%.
In contrast to sugar cane (which is also widely grown in the region of São Paulo), the orange harvest is not usually mechanised, and requires an army of pickers for each harvest. According to official numbers, the citrus sector employs close to 50,000 people in the state of São Paulo alone. Given the high prevalence of informal labour, the actual number is probably much higher. Like Aarão and Carlos, the pickers are employed for the season, which lasts between eight and eleven months, under precarious conditions and contracts that include daily productivity targets.
In collaboration with the investigative NGO Repórter Brasil, Public Eye travelled to the state of São Paulo to investigate the working conditions of the pickers. Most of the producers, whose fenced facilities contain 10,000 to 20,000 orange trees, refused to let us in. Others, like LDC, even followed us to their workers' accommodation to dissuade them from talking to us – successfully in one case.
What could lead an orange producer to hide its orange trees behind barbed wire and zealous guards?
To find out, we were joined by a colleague from Repórter Brasil and spoke to around 15 pickers in their accommodation, which is rented out by LDC or independent producers. To protect them from possible reprisals, we chose not to divulge their identities or the names of the towns and plantations in question.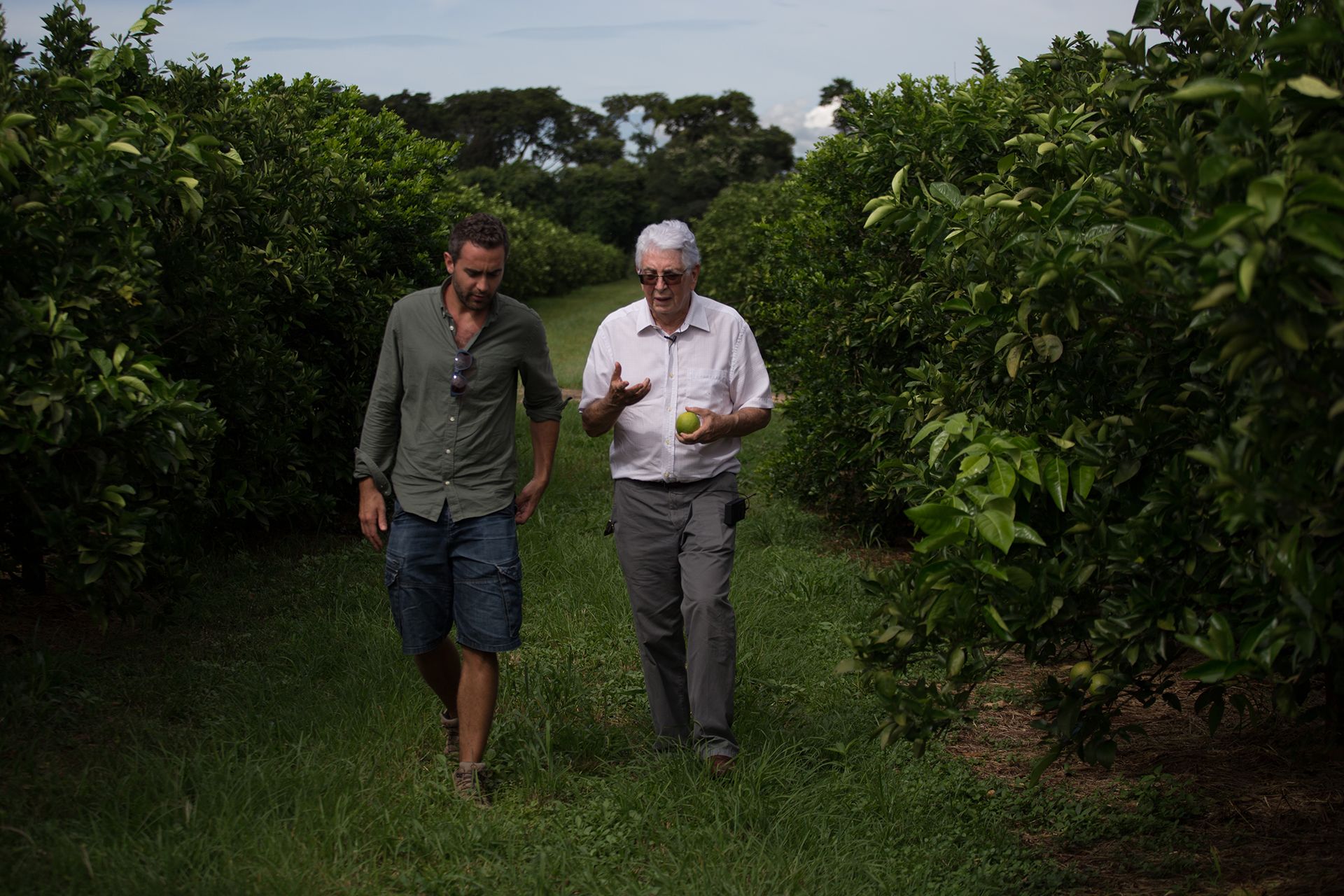 Talking to Flávio Viegas, president of the Brazilian association of small and medium-sized orange producers (right).
Our investigation revealed the precarious working conditions of the pickers and the opacity of the sector which companies like LDC deliberately exploit, benefitting from the dismantling of the labour laws by the governments of Temer and Bolsonaro. Moreover, numerous testimonies indicate that international labour standards, such as the right to just and favourable remuneration or the right to safe and healthy working conditions, are systematically violated by LDC's suppliers.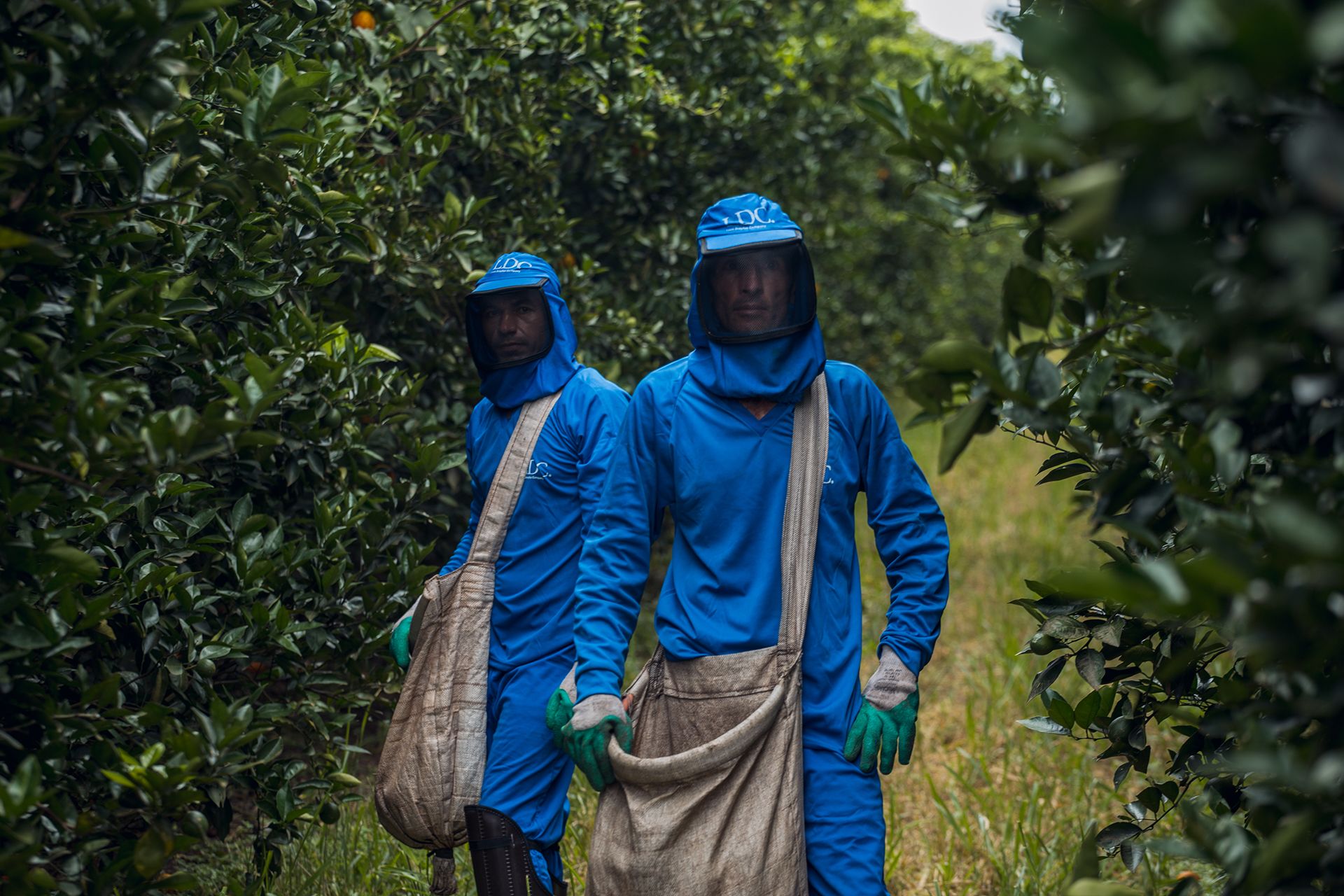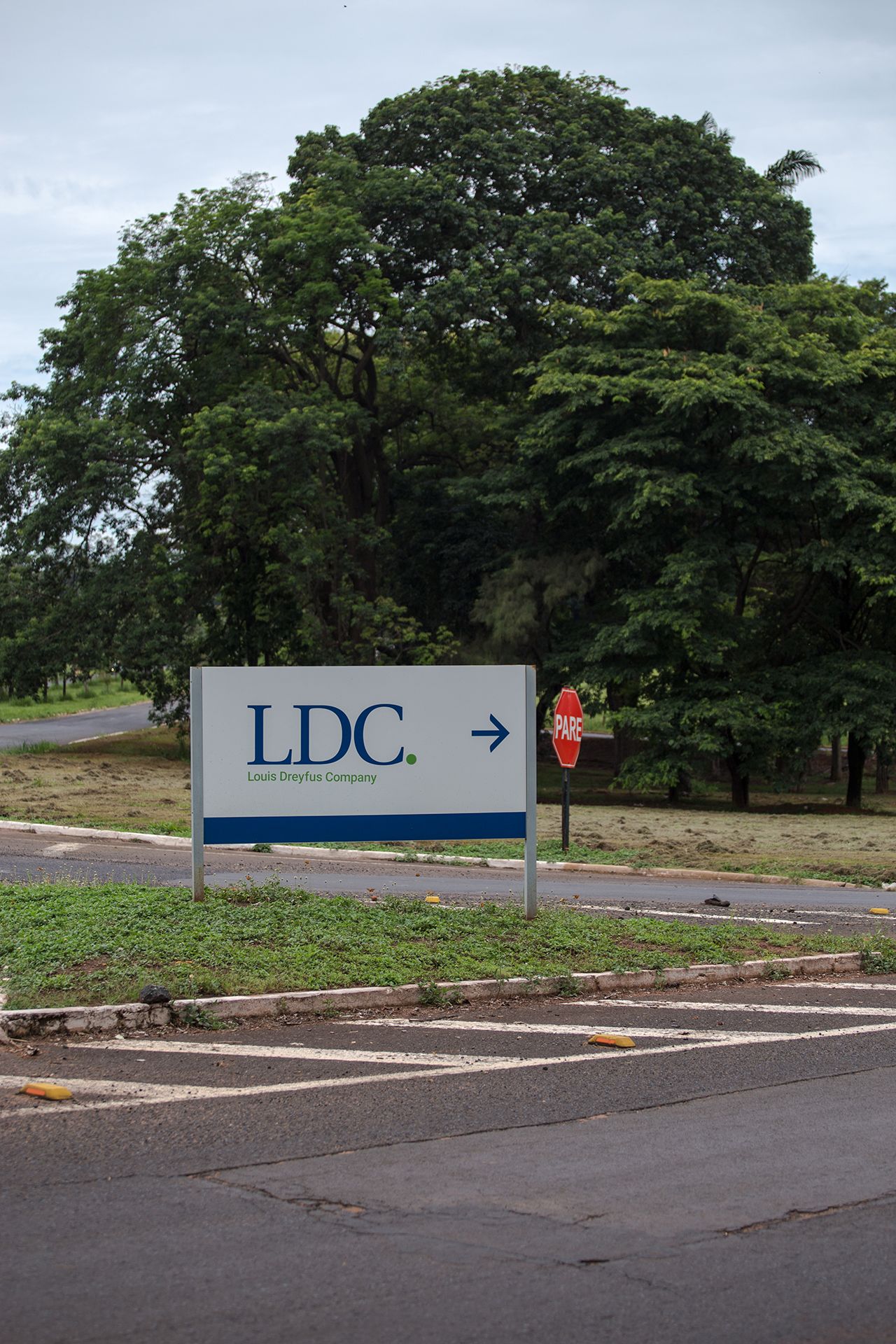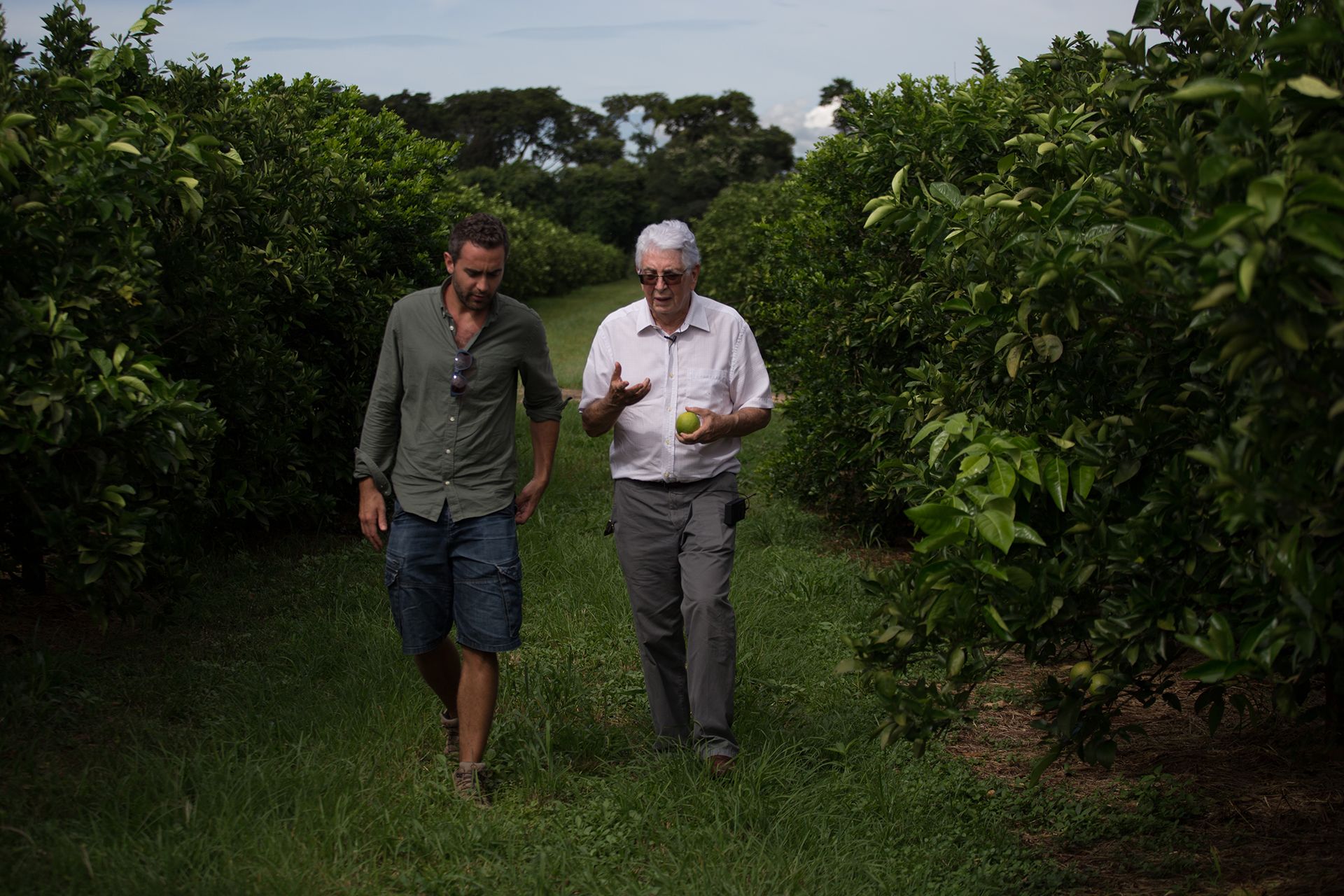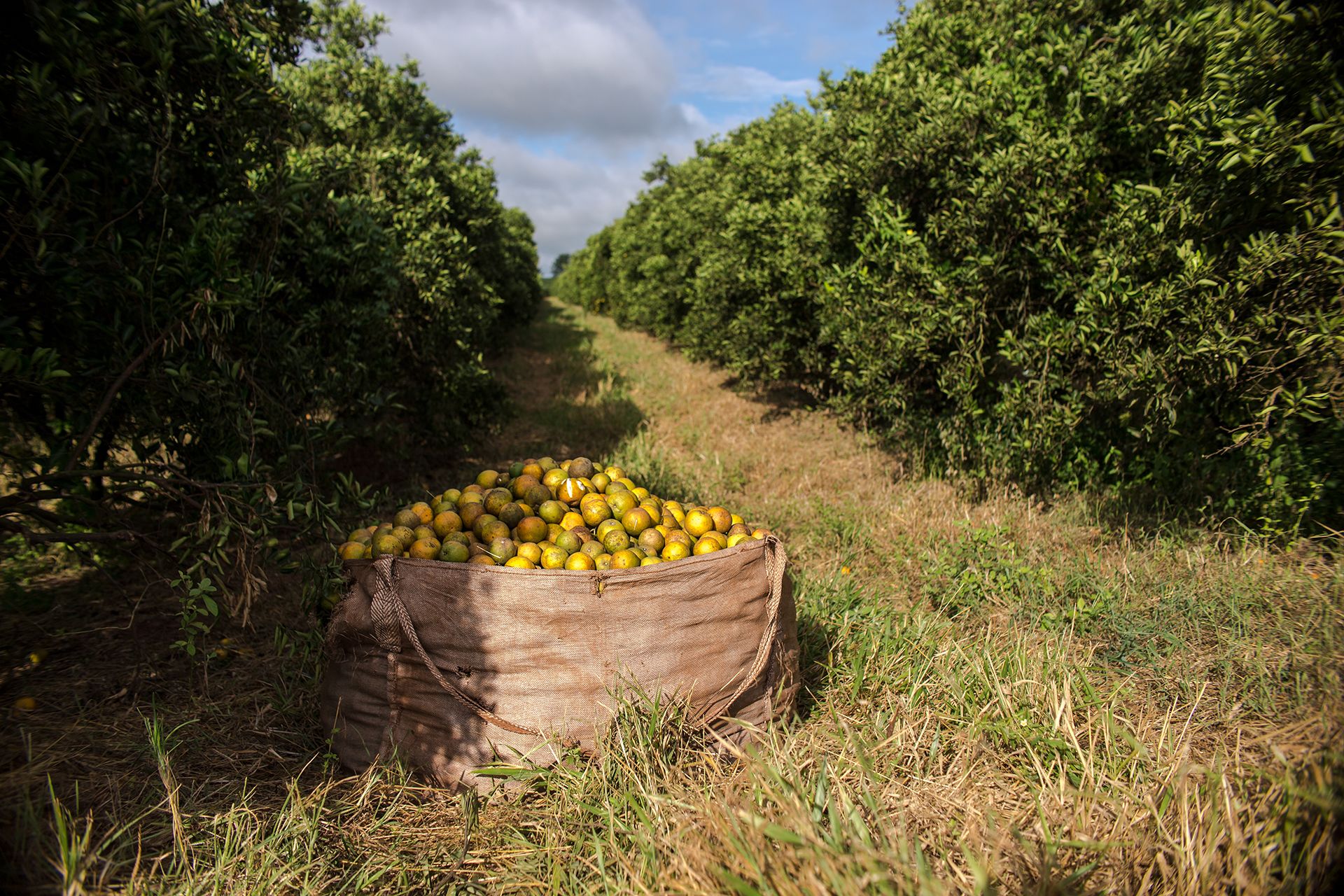 Let's start with wages. In its reports, printed on glossy paper, LDC boasts that: "We take our responsibility for the well-being of our entire workforce […] very seriously." LDC declared that "no picker receives a salary below the minimum wage". The statutory minimum wage for 2020 is set at 1045 reals per month, less than 190 Swiss francs, which seems to satisfy the representative of LDC Juice Brazil, who believes that "today, picking is an extremely decent job". We were unable to obtain more detailed information regarding LDC's wage levels, as the company considers this a "private" matter.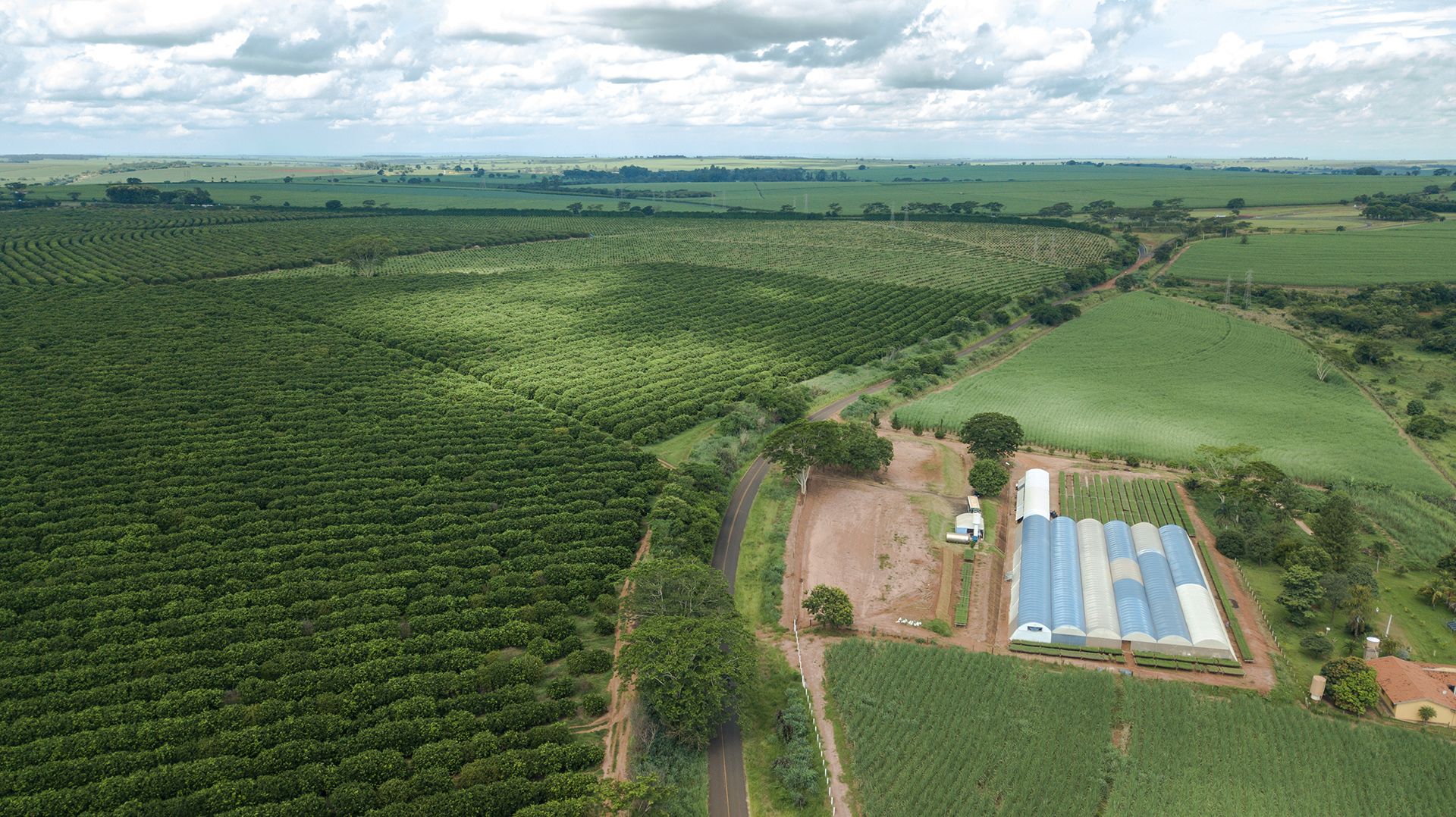 View over the plantations.
We attempted to quantify this level of decency by systematically asking pickers to show us their pay slips and by looking at any collective labour agreements in place. Two such documents, applicable in the municipalities of Olímpia and Dourado, demonstrate that LDC pickers earn a monthly wage of 1163.55 reals – a "gift" of nearly 120 reals (CHF 21) above the statutory minimum wage.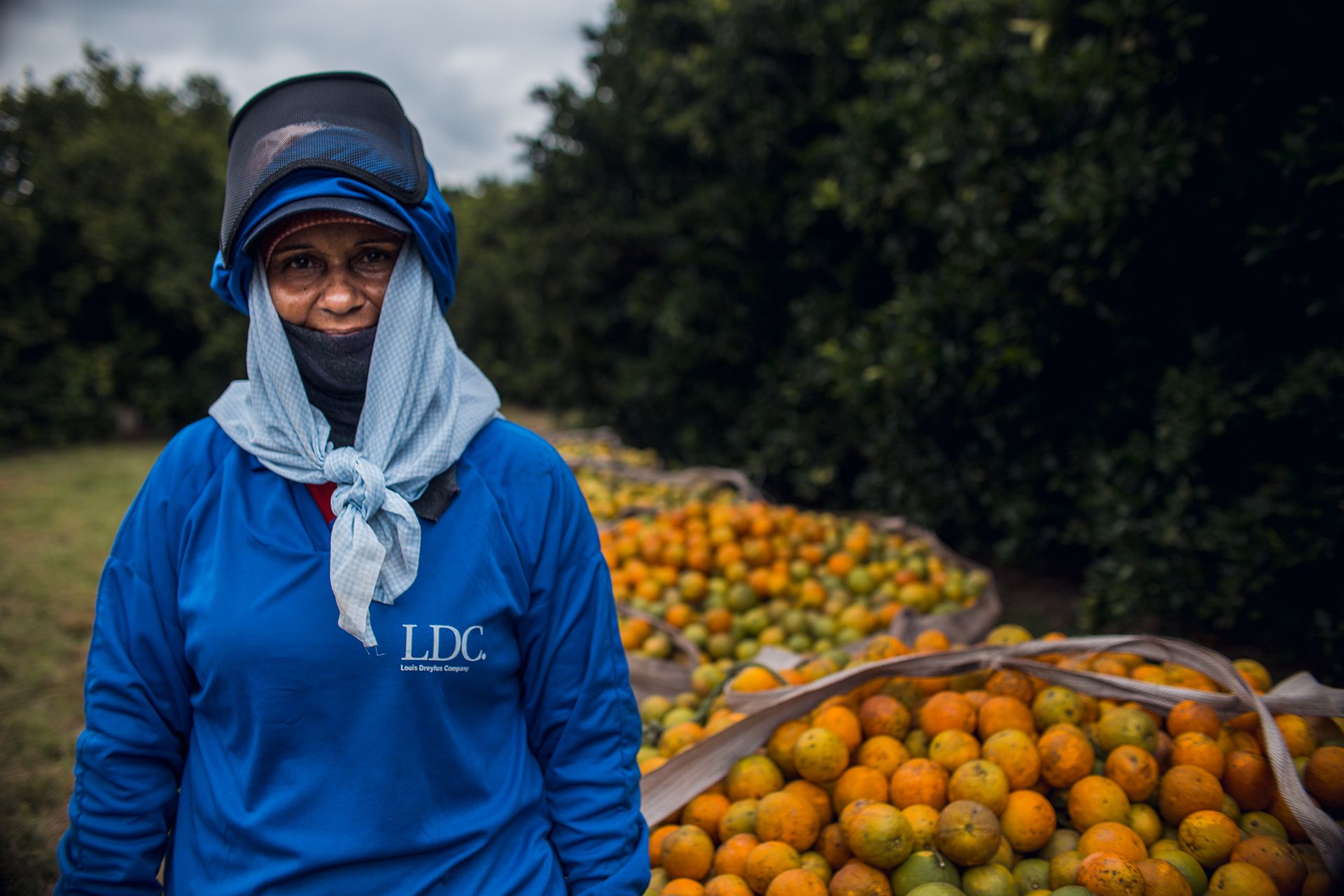 LDC granted us access to one of their plantations for an hour. We met several pickers; however, they were not allowed to talk about wages.
In its response to Public Eye, LDC claims that productivity bonuses make it possible for pickers to earn up to 2.7 times the minimum wage. The pay slips we analysed tell a different story: pickers can supplement their salary by 300 or 600 reals (CHF 54 or CHF 108) provided that they exceed certain daily targets set by the company. Thus, it's not surprising that LDC is reluctant to talk about actual wage levels.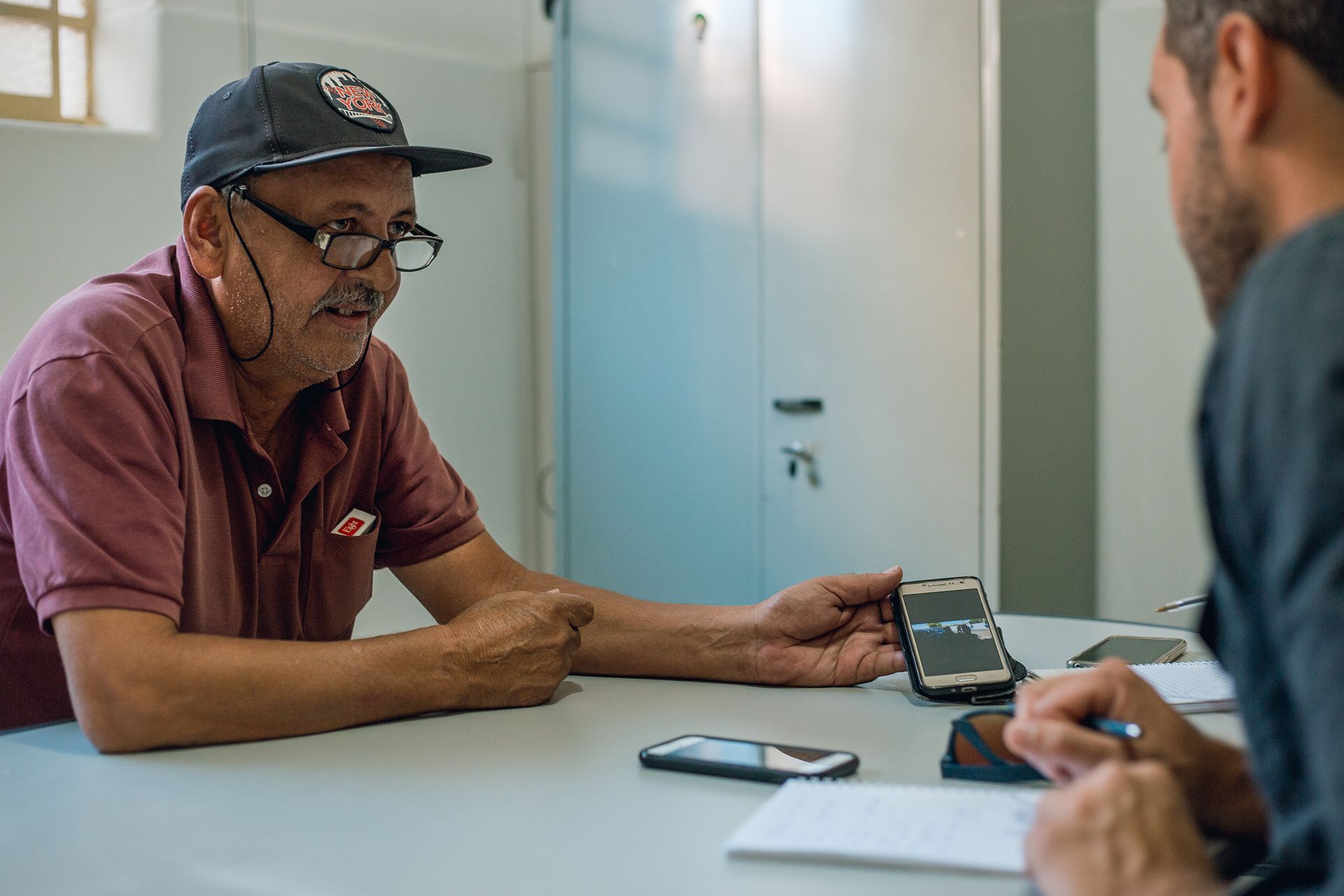 José Carlos Alves, president of a trade union.
Even though the right to an adequate standard of living is an internationally recognised human right, millions of people working in agriculture around the world do not earn decent wages. The same applies to orange pickers in Brazil. The monthly wage required to purchase necessary consumer goods for a family in Brazil should be at least 4673.06 Real (CHF 814), according to the latest data from the Inter-union Institute for Statistics and Socioeconomic Studies (DIEESE). Not to mention that the cost of living in the state of São Paulo is among the highest in the country, and that inflation at national level reached almost 4.5% in 2019.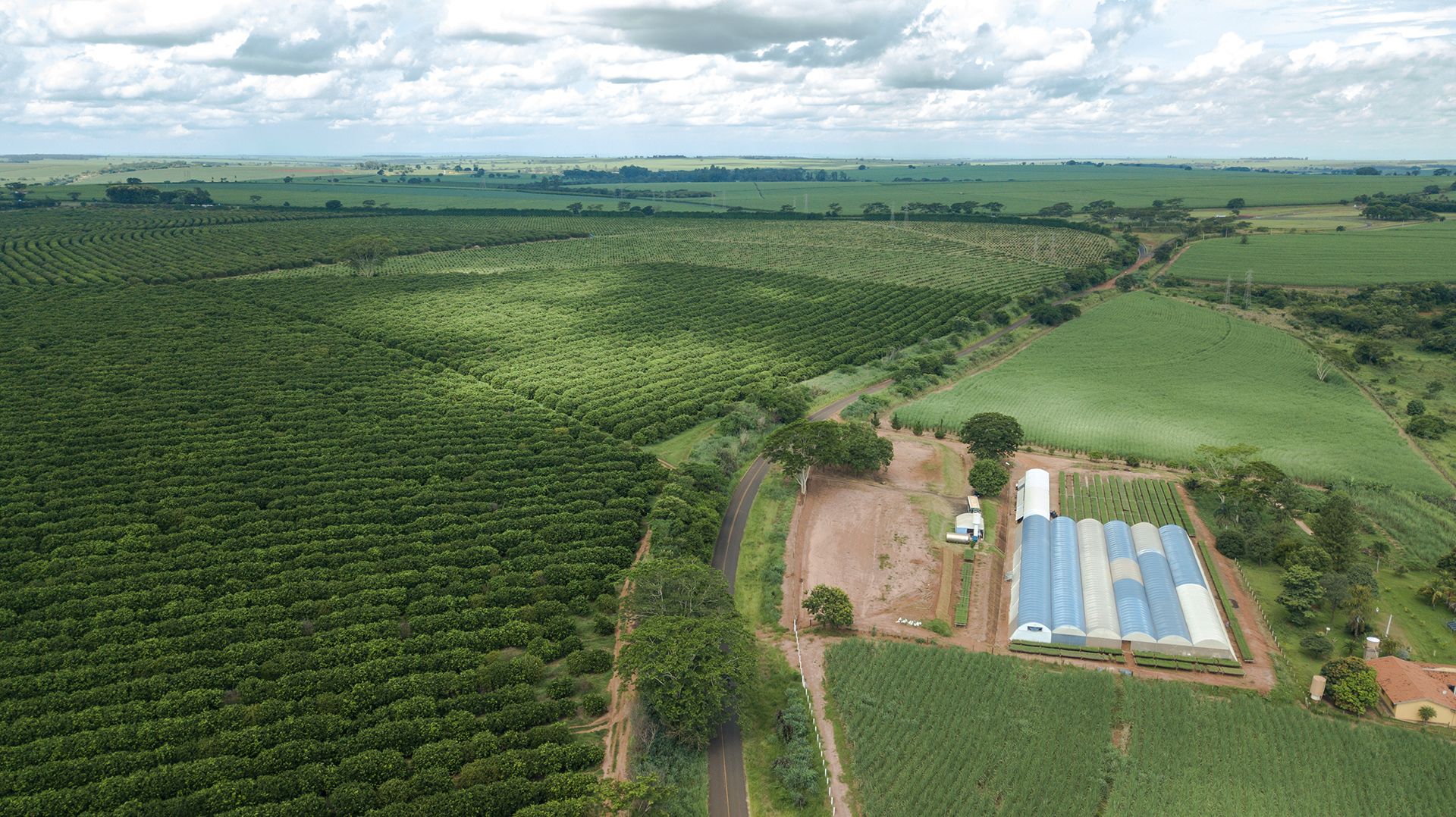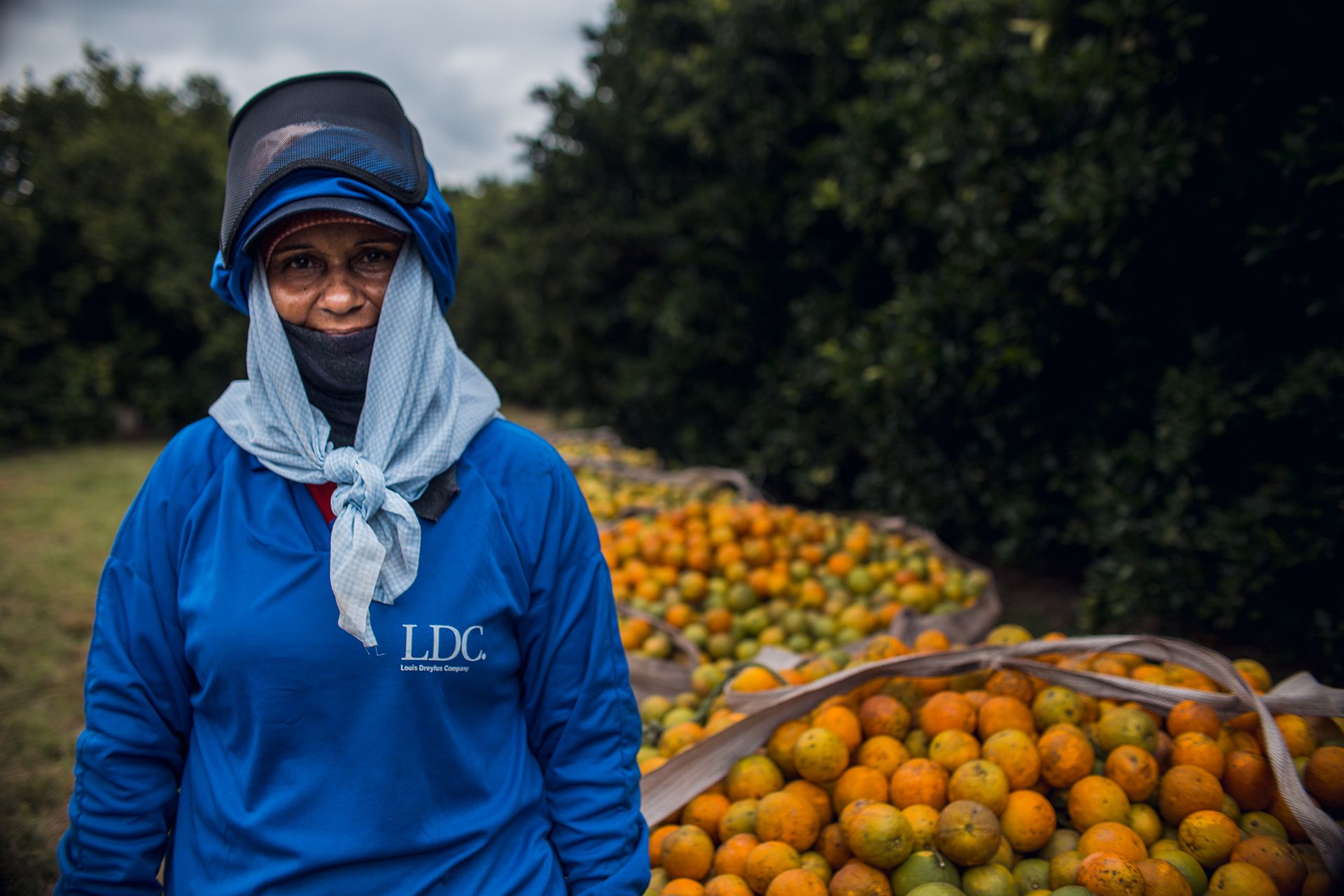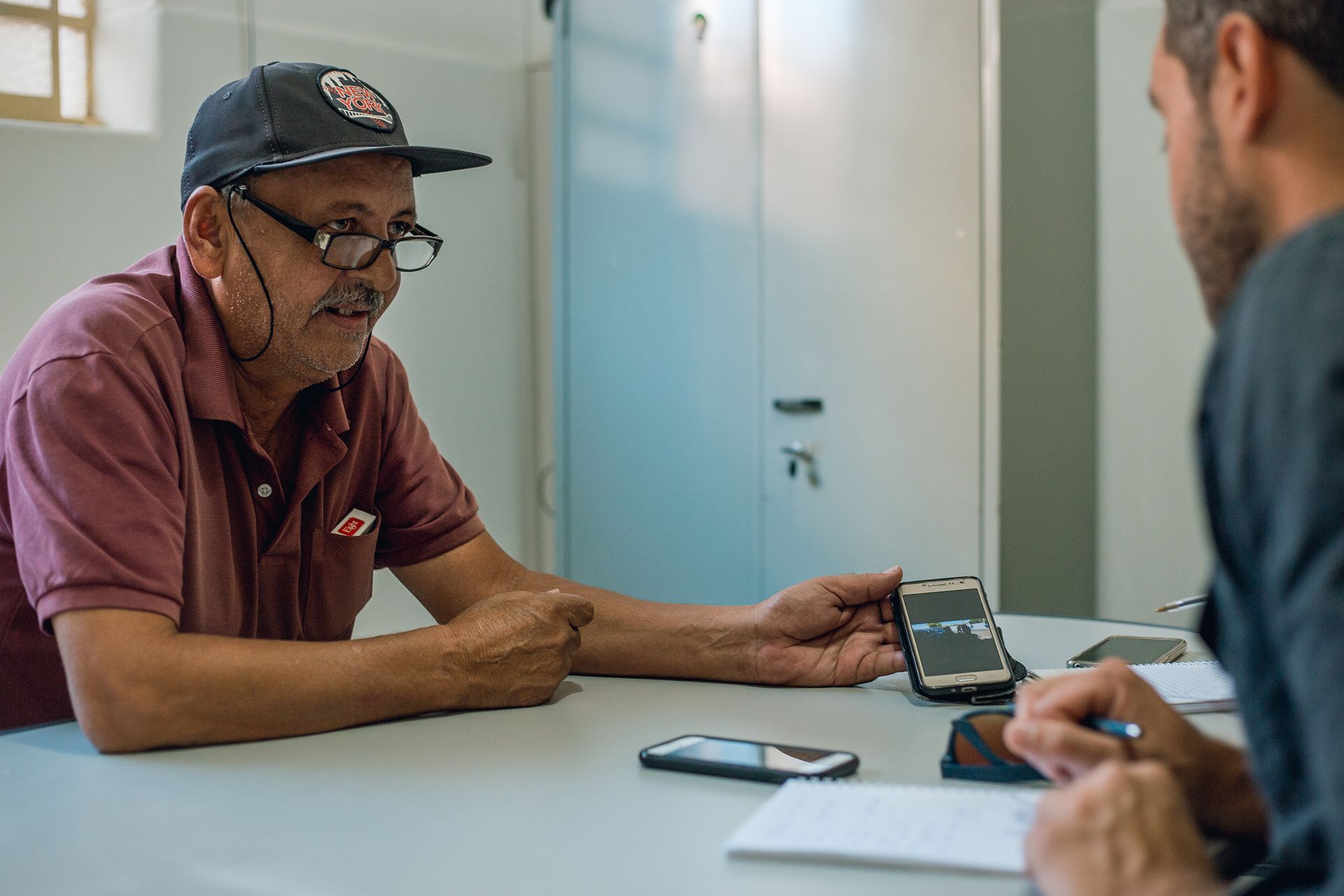 A complex and opaque system of remuneration
The crumpled, pale-green paper looks a bit like parchment. The pay slip bears an LDC Sucos S.A. stamp, and the table can contain up to 14 categories. In this case, workers are paid 0.62 real (CHF 0.14) per box of oranges collected, but the basic price varies. This picker collected a little under 1400 boxes of oranges in two weeks. Additional pay is provided for two variables adapted according to the level of difficulty of the work undertaken and an additional productivity bonus, amounting to an additional total of 60 reals. Deductions are made for social contributions and accommodation. The total earnings for two weeks of this picker, who is considered productive: about 165 Swiss francs.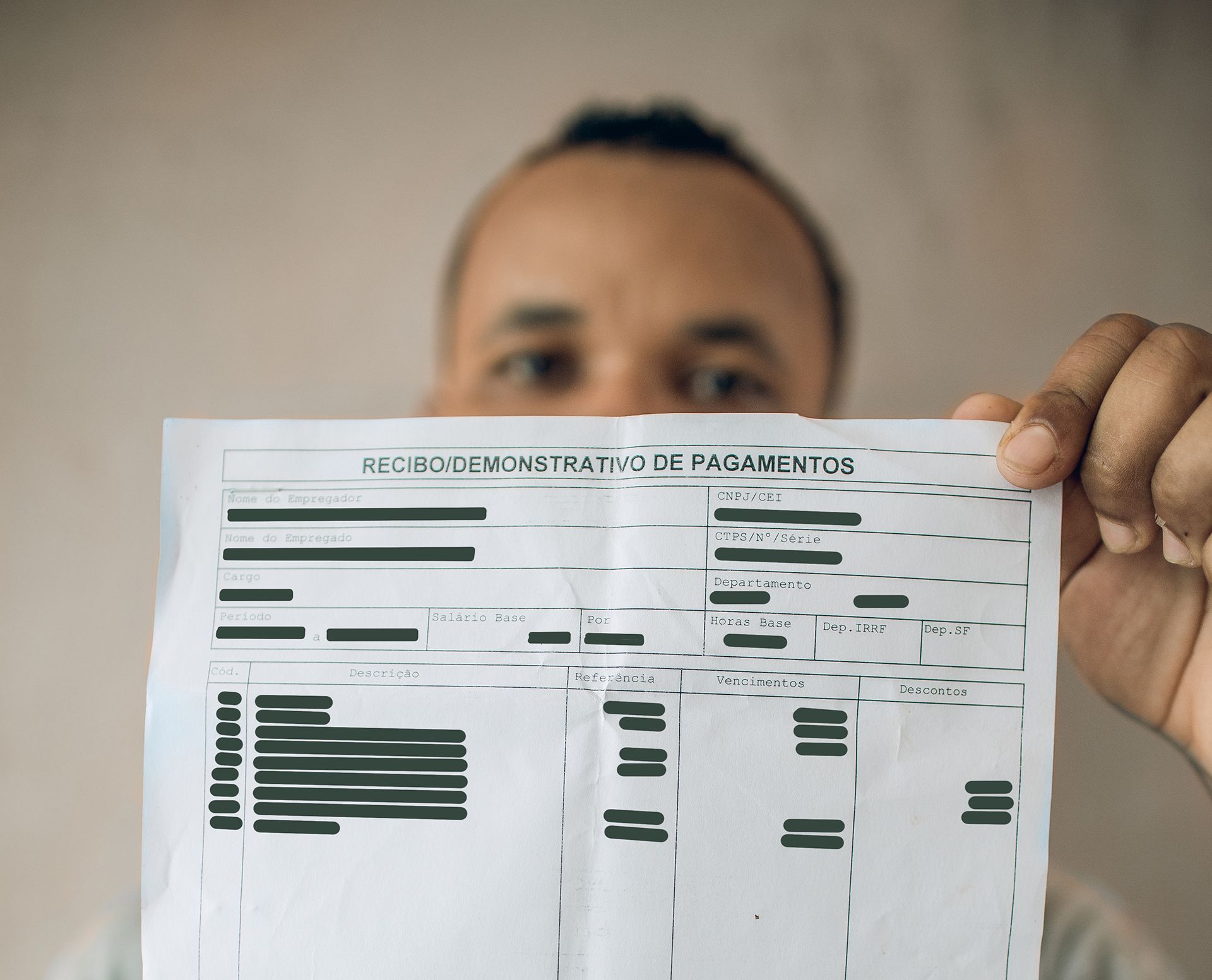 The trade unions have long denounced LDC's "confusing system" as well as the company's strategy of "fragmenting negotiations" in each of the municipalities where the company manages its 38 plantations. "You've got the same company and the same workers, but different conditions depending on the plantation" denounces Jotalune Dias dos Santos, from Feraesp, the umbrella organisation of agricultural unions. Moreover, under the rather non-committal collective labour agreements we saw, salaries can be paid weekly in one case, and fortnightly or monthly in another.
"Often, the workers are dependent upon the goodwill of the company."
We asked Public Prosecutor of the Ministry of Labour Rafael de Araújo Gomes about the complex nature of these pay slips, which no picker seemed capable of explaining to us. "In general, there is no system that accounts for the number of boxes that are picked per day. The document is not signed either", he observed. "Often, the workers are dependent upon the goodwill of the company", laments the representative of the Labour Ministry of the city of Araraquara.
The multitude of wage systems also complicates any disputes. "I have seen cases in which employees were paid 0.90 real per box, but those employees were not formally registered", continues Rafael de Araújo Gomes. "For the pickers, it's simple maths: they know they will never get to retire anyway, so what is the point in paying into a pension fund?"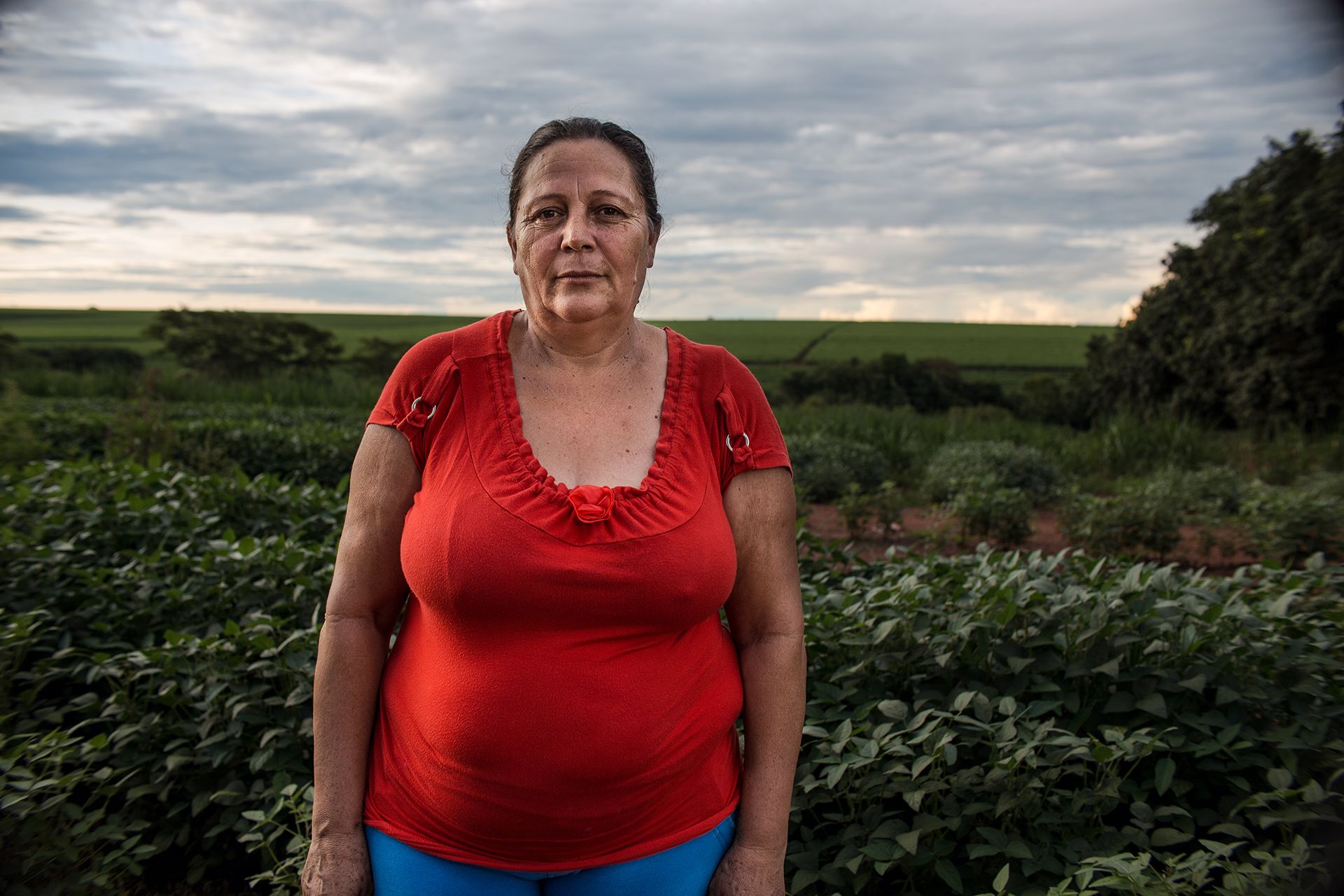 Tereza Dal Bem has been picking oranges since the age of 12. "It's not easy for a woman, because the bag weighs 28 kilos. But there are no other options in our city."
Another reason behind LDC's reluctance to communicate on wages: the latest reform of the labour code enabled it to save 15 to 30%, according to an investigation conducted by Repórter Brasil. Since late 2017, companies are no longer obliged to pay their workers for the travel time needed to get to the plantations. These horas in itinere can amount to up to four hours a day and even more when it is raining. According to our information, LDC – in contrast to its two main competitors – has always refused to make up for this loss of income. In its written response, the multinational's headquarters nevertheless says that it "made a payment to the employees previously entitled" and "increased the amount paid per box collected". Measures which according to LDC "compensate the previous amount and act as an incentive". But an incentive for what? To become even more productive? This point remains unclear.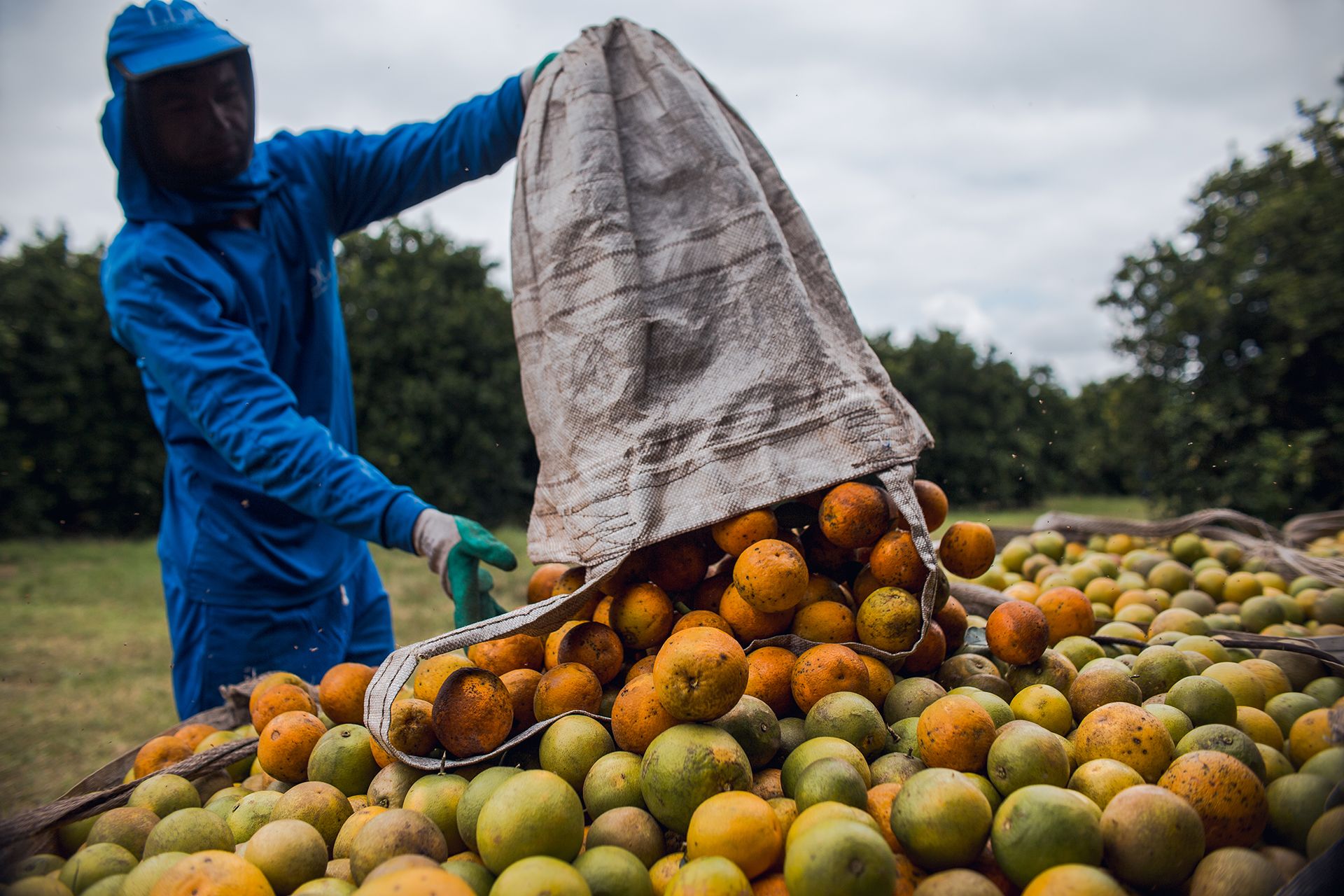 The bags weigh up to 28 kilos.
"What is left for them to live on?"
"On average, a worker spends 60% of his salary on food. In the region, rent costs 600 Real, and let's imagine that they also need to support two children. What is left for them to live on?" asks Jotalune Dias dos Santos. For the president of Feraesp, the umbrella organisation for agricultural trade unions in the state of São Paulo "a serious debate about a system that drives pickers to exhaustion just to survive is necessary". He's referring to the productivity-based wages, which in extreme cases make up the total of a worker's income.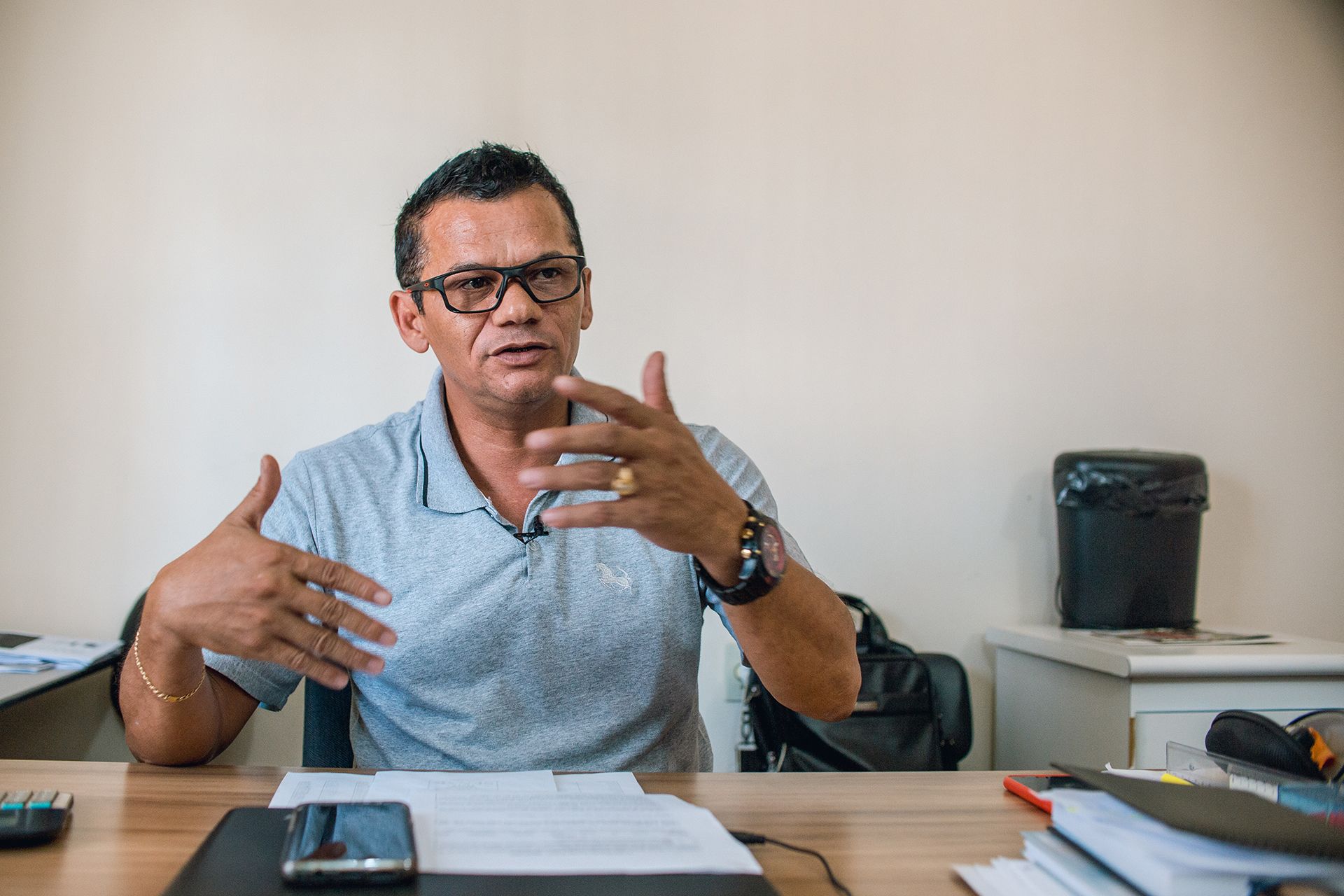 Jotalune Dias dos Santos from the umbrella organisation of agricultural unions Feraesp
Whereas LDC guarantees the legal minimum wage to its employees, even for those who don't meet productivity targets, the same cannot necessarily be said for its suppliers. Some pay slips of pickers we visited in the supplier's accommodation show amounts well below 1000 reals (180 CHF). Social security contributions are largely absent, and some pickers confirm having been paid "under the table" for several weeks. They often choose not to claim their rights or to denounce exploitative working conditions because they fear losing their jobs.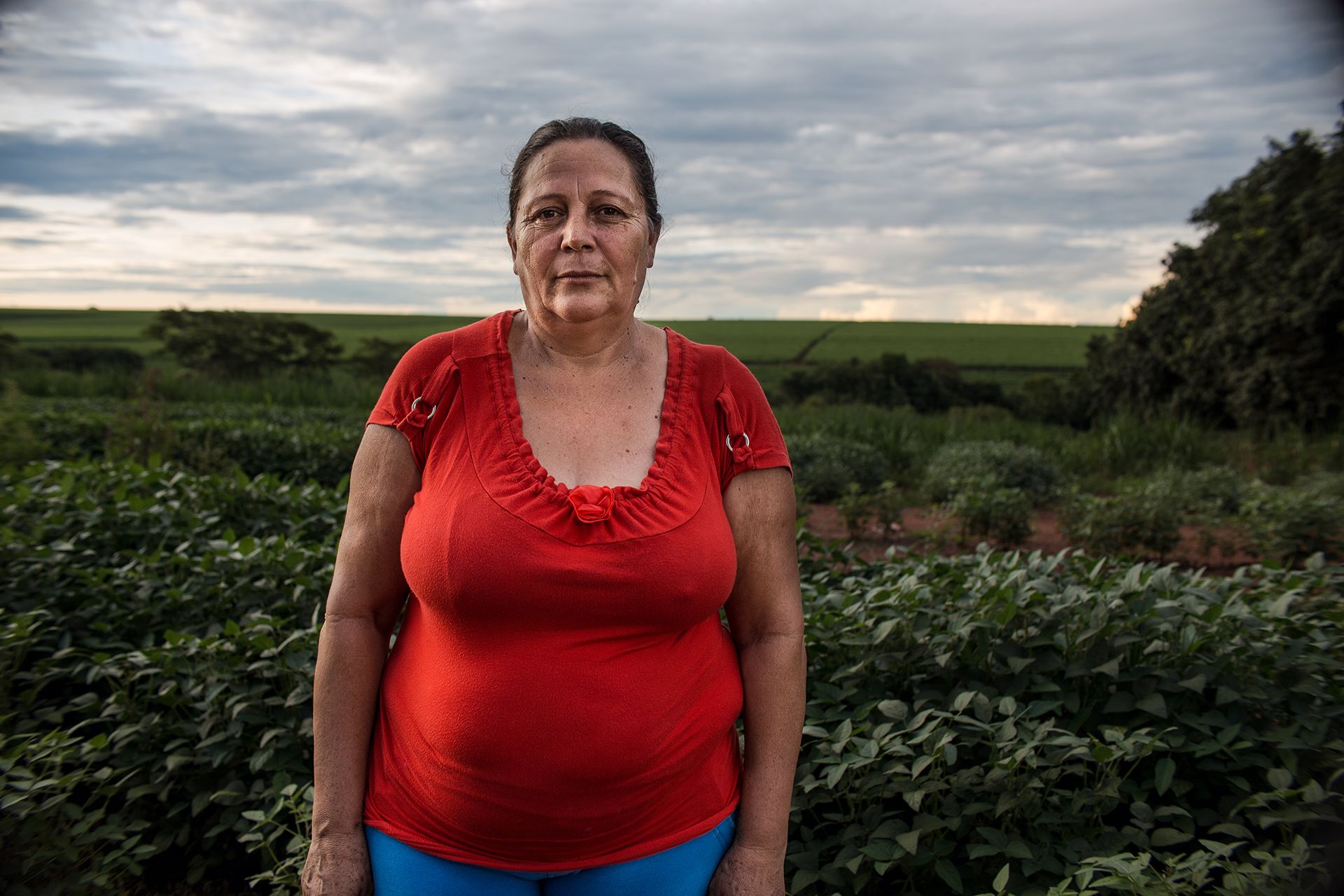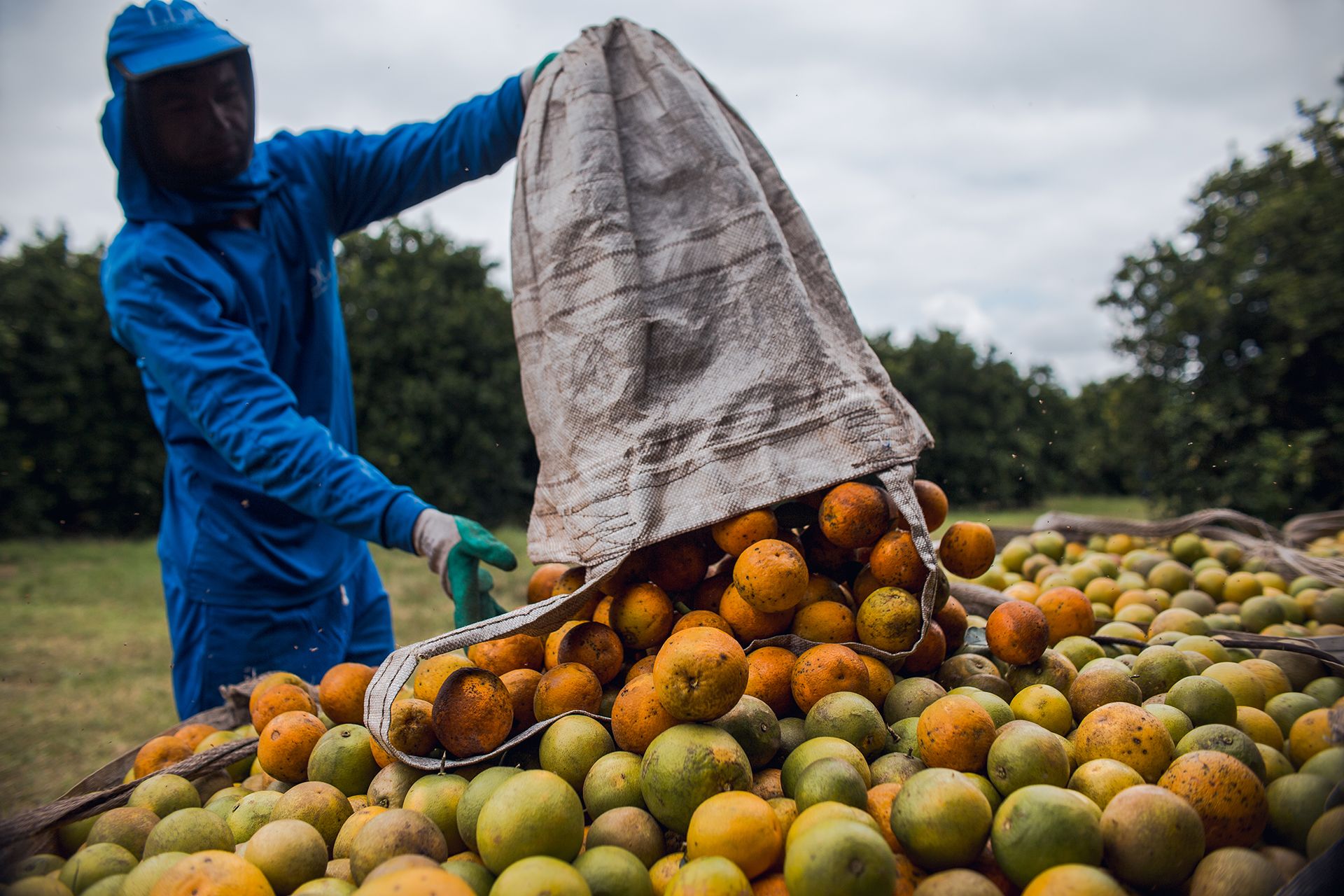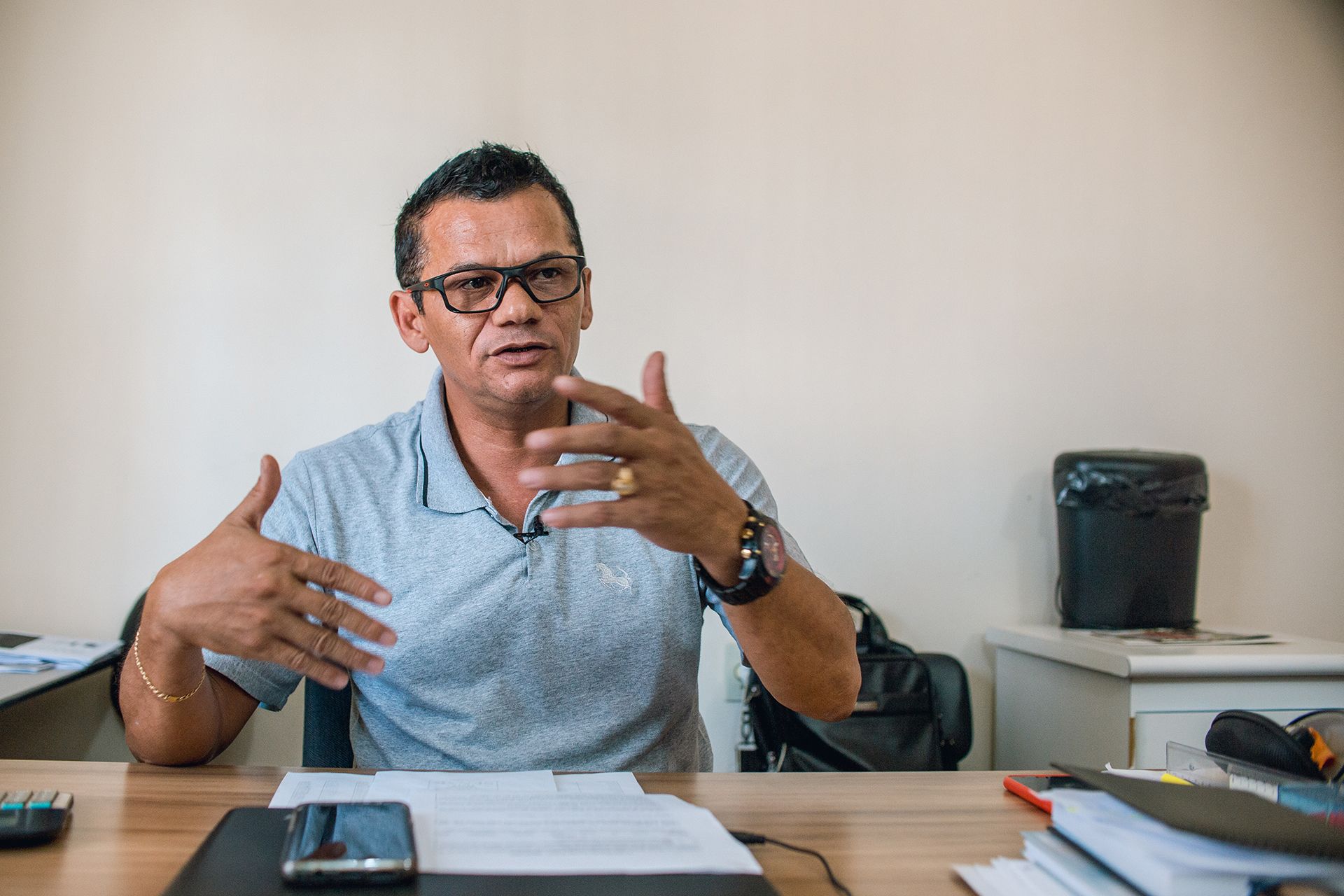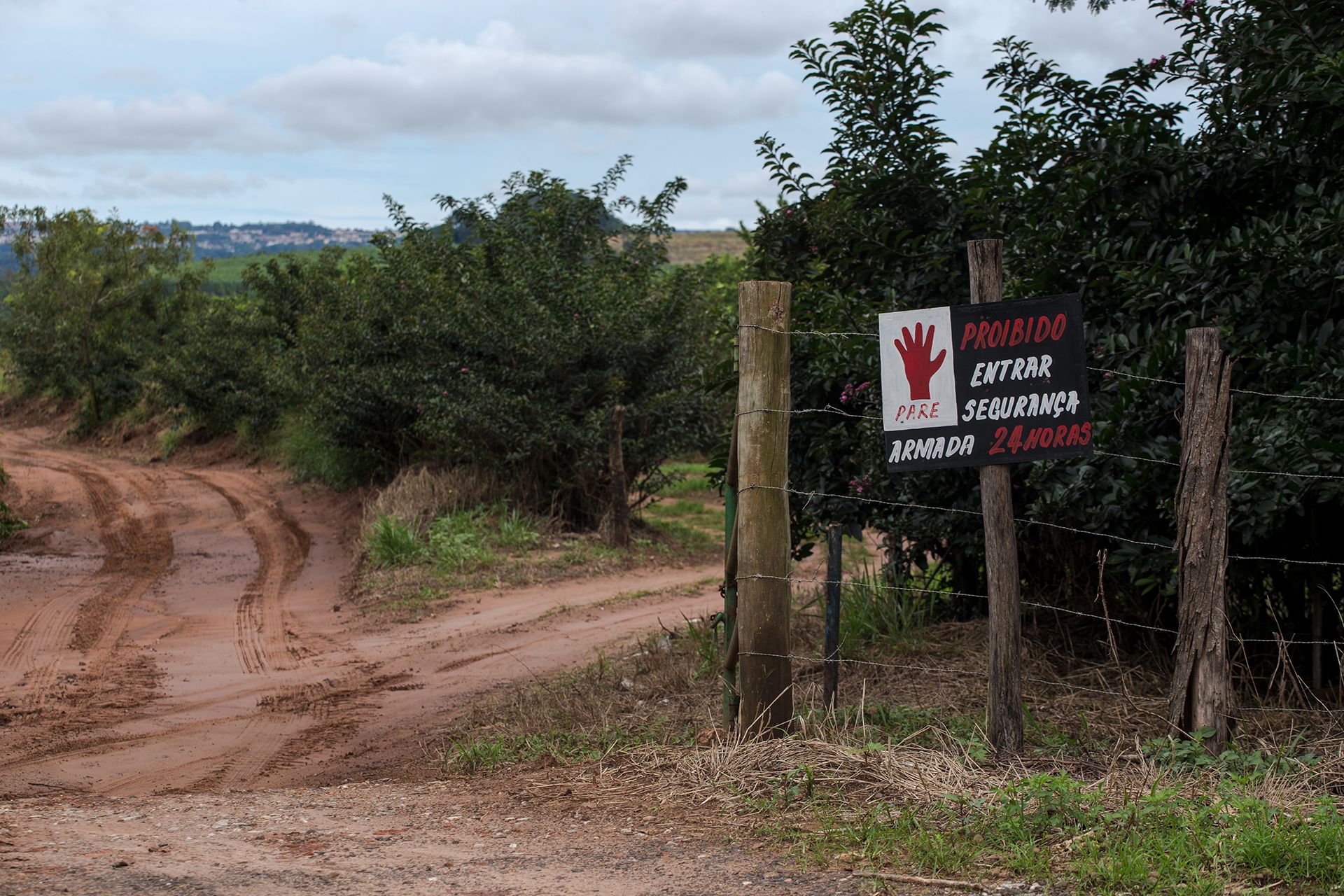 One of LDC's suppliers, whose plantation we wanted to visit, openly admitted to the issue of undeclared work during a phone call we recorded. He stated the following reason for refusing to let us enter: "I have an unregistered team [de bocada]. There will be a team without uniforms and without [protective] equipment."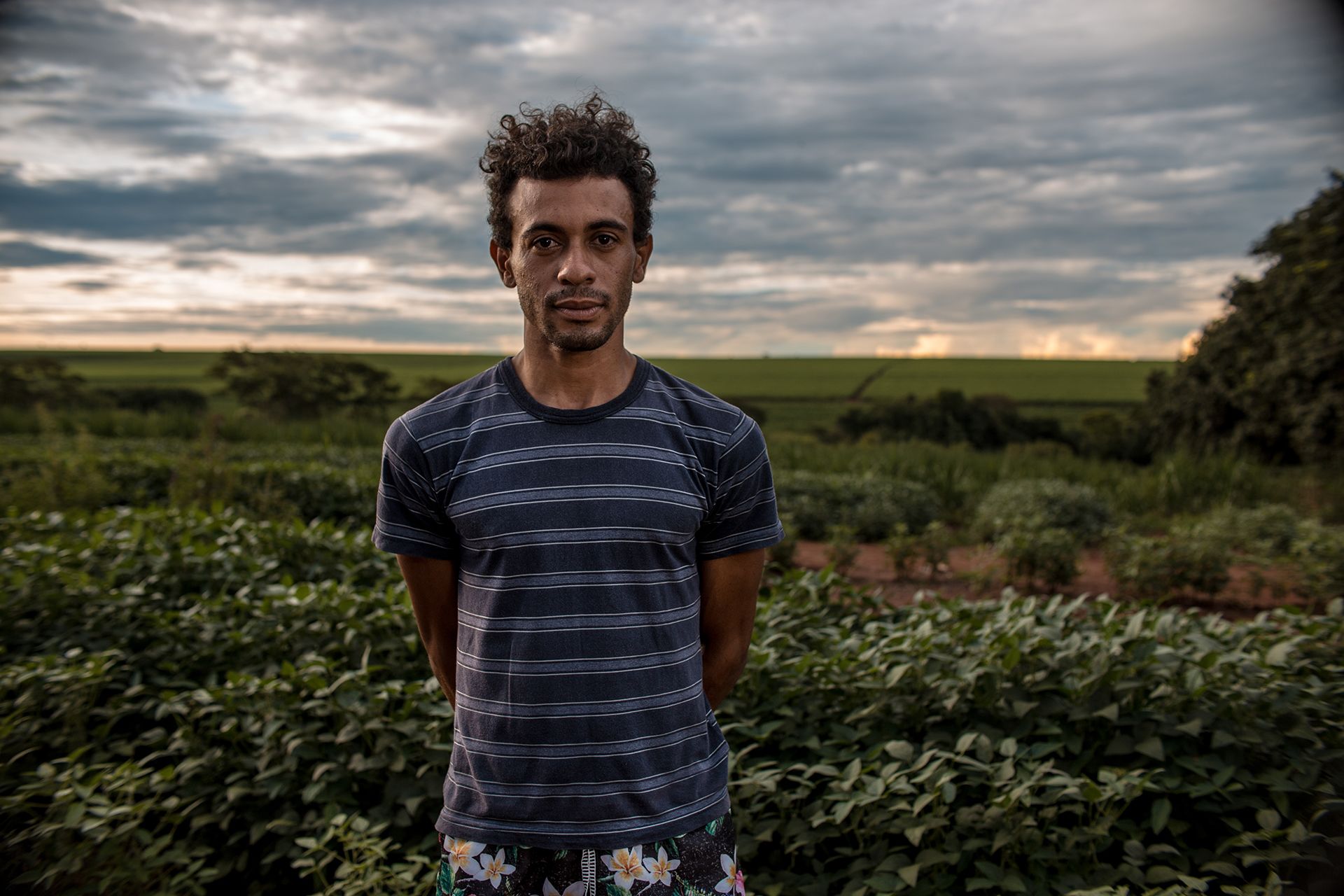 Felipe Costa took part in four harvests for LDC. "We even had to work while in pain, so as not to miss any work."
While we were waiting for LDC to let us onto one of its plantations, we knocked on the doors of several of its suppliers. We would have liked to know more about the conditions imposed by LDC. Even though there were clearly pickers on site, most used the end of the safra as an excuse and refused to let us in. At the site of an independent producer, whose entrance had been open and unguarded at the time, we were stopped by guards. Eventually, we were forced to explain ourselves to seven police officers. When interviewed, most unions stated that they are also finding it increasingly difficult to approach workers. Their presence didn't facilitate our getting access to plantations either.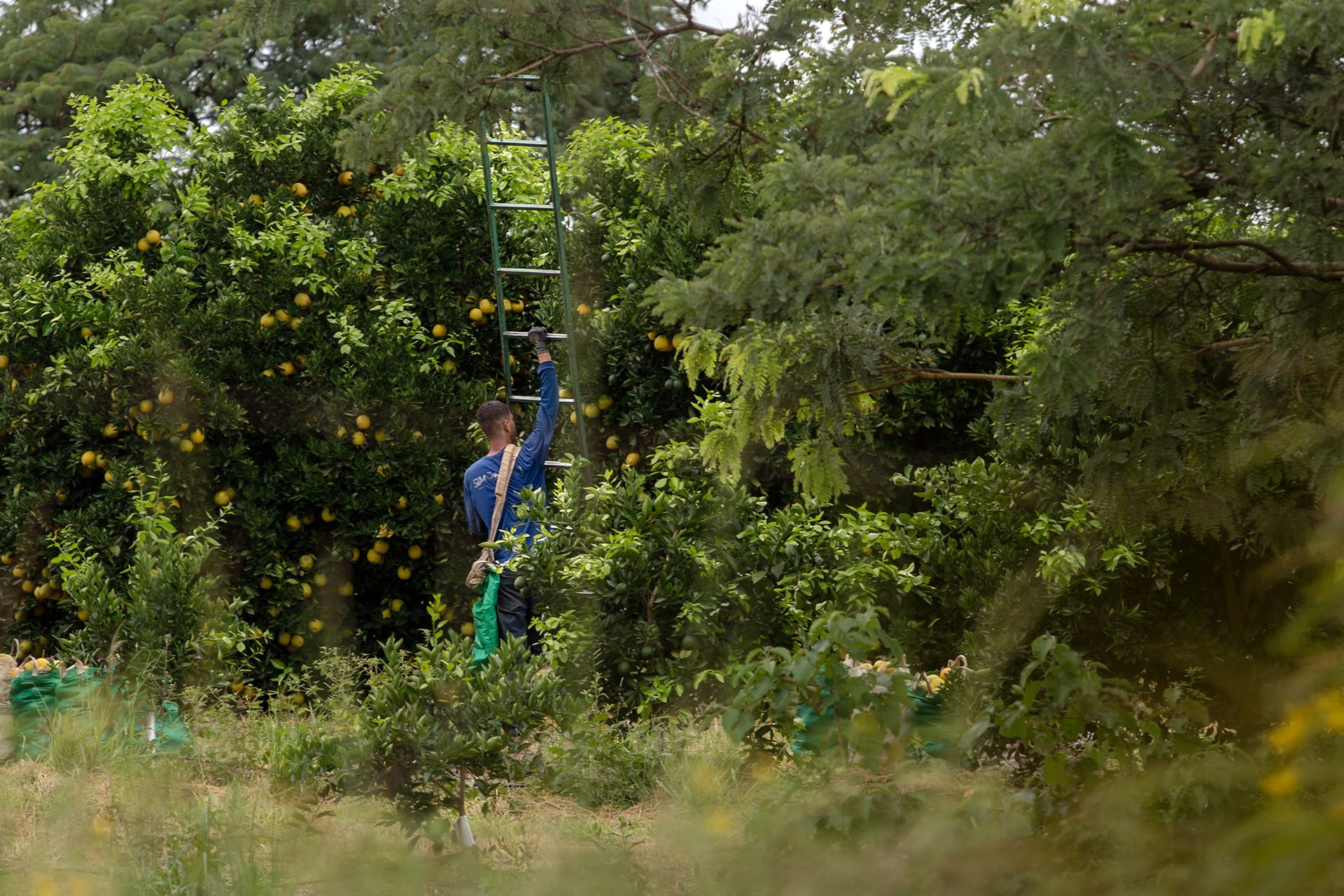 In scorching sun or pouring rain, the oranges need to be carried down ladders that reach up to five metres high.
The Ministry of Economy confirmed to Repórter Brasil in 2020 that currently no inspections were planned on orange fazendas. The only thing producers might fear in case of alleged malpractice is that the Ministry of Labour decide to act on suspected cases.
A smokescreen
Before any action can be taken, sufficient information is required. "We don't know what's going on in the plantations at the moment", admits Rafael de Araújo Gomes. The Public Prosecutor of the Ministry of Labour of Araraquara has a reputation for being uncompromising towards companies that mistreat their employees. However, he points to the increasing difficulties faced in investigating cases due to the tendency in Brazil for people to turn their backs on the working class. At the legislative level, this is happening through the labour reform that deregulated labour protection and weakened trade unions. At the judicial level, this is happening by means of a recent decision by the Supreme Court that validated the use of employment agencies by companies. Finally, it is doing so at the political level by making the Ministry of Labour subordinate to the Ministry of Economy. Collecting taxes is prioritised over inspections, according to the Public Prosecutor.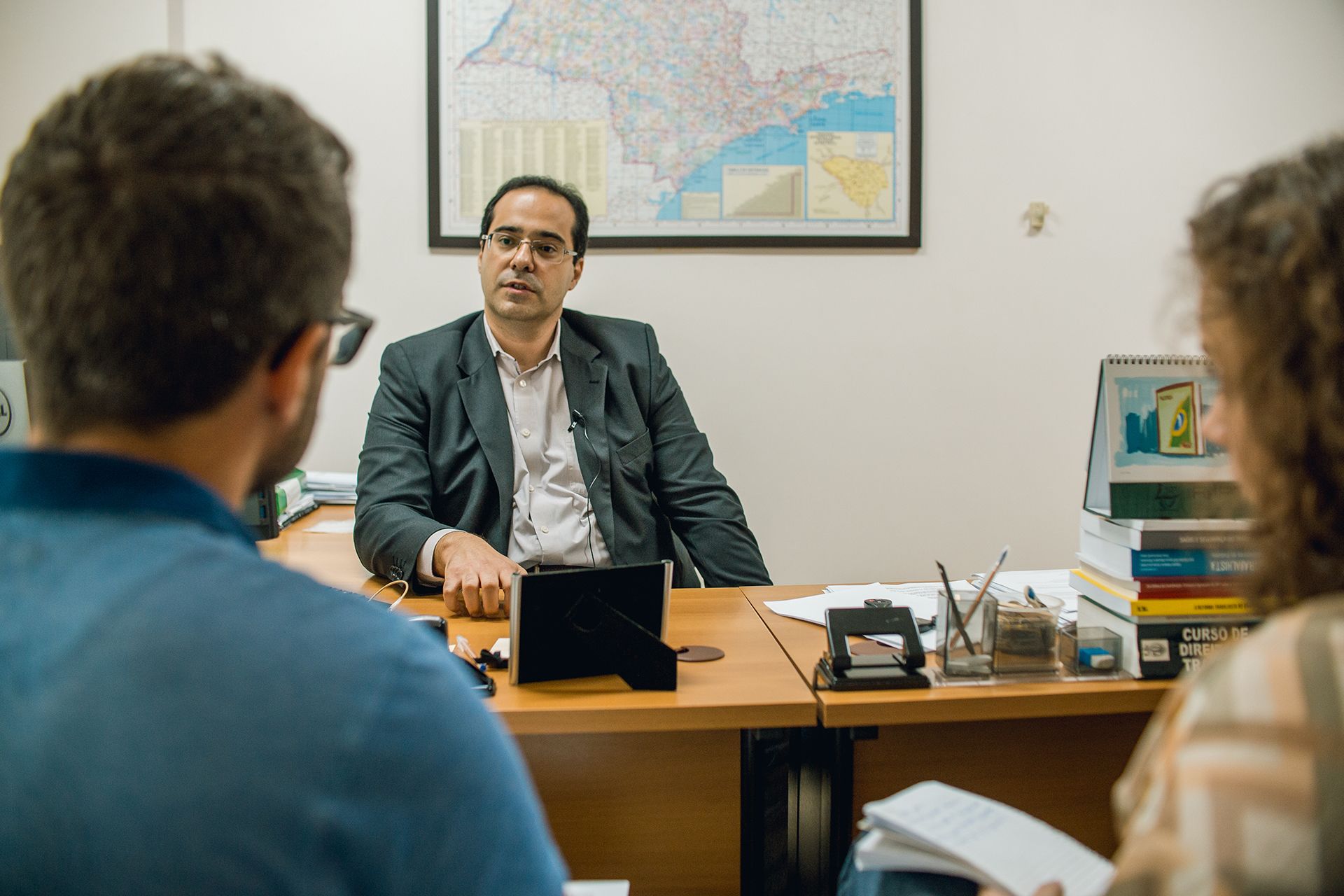 Rafael de Araujo Gomes, Public Prosecutor of the Ministry of Labour of Araraquara.
Some of the trade unionists interviewed by Public Eye and Repórter Brasil even confirmed that in some cases, labour inspectors do not even have cars or petrol to travel. Rafael de Araújo Gomes recalls the recent dismantling of environmental protection measures:
"Everyone saw the smoke caused by the increasing deforestation in the Amazon. Unfortunately, violating workers' rights is less visible than smoke caused by burning forests."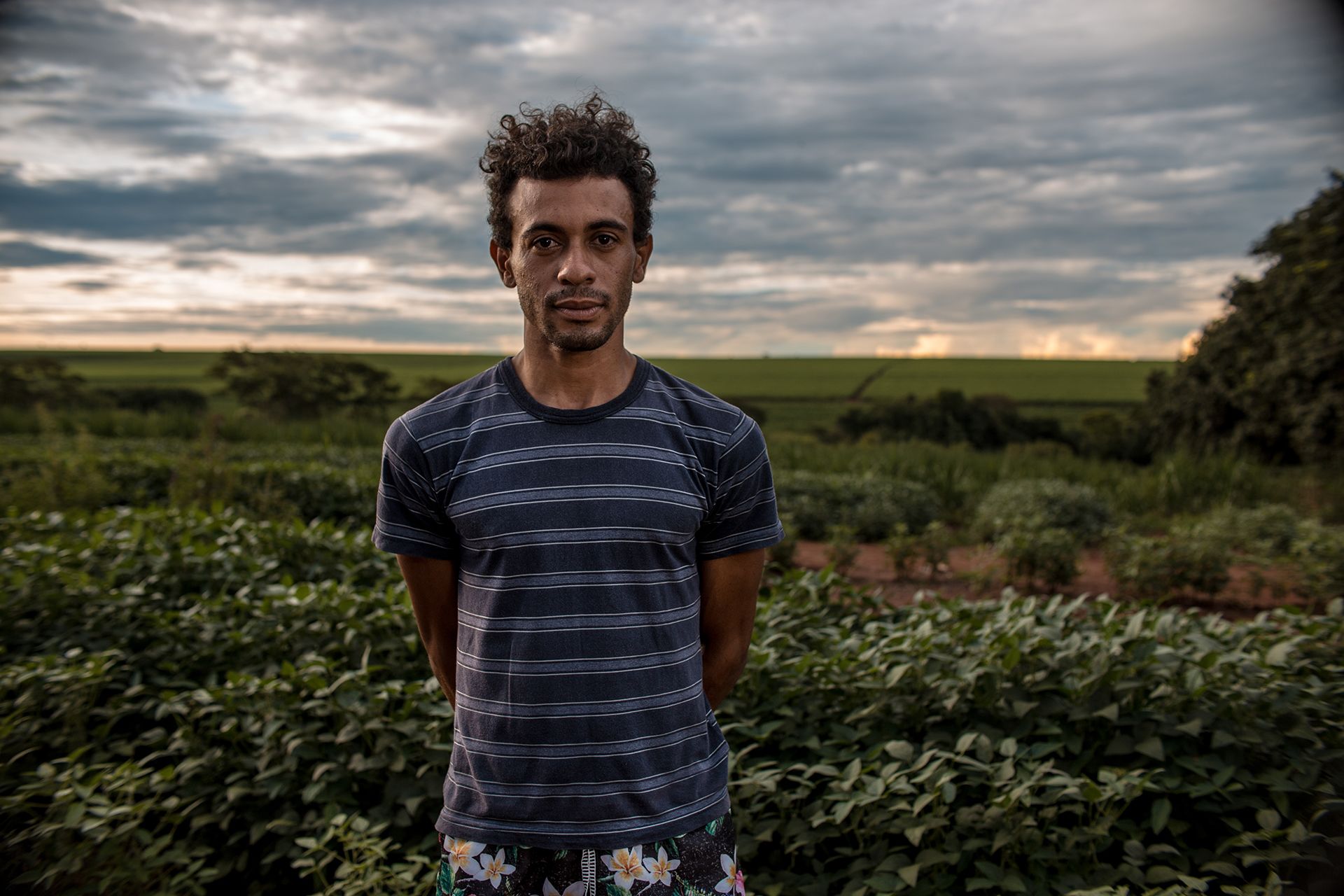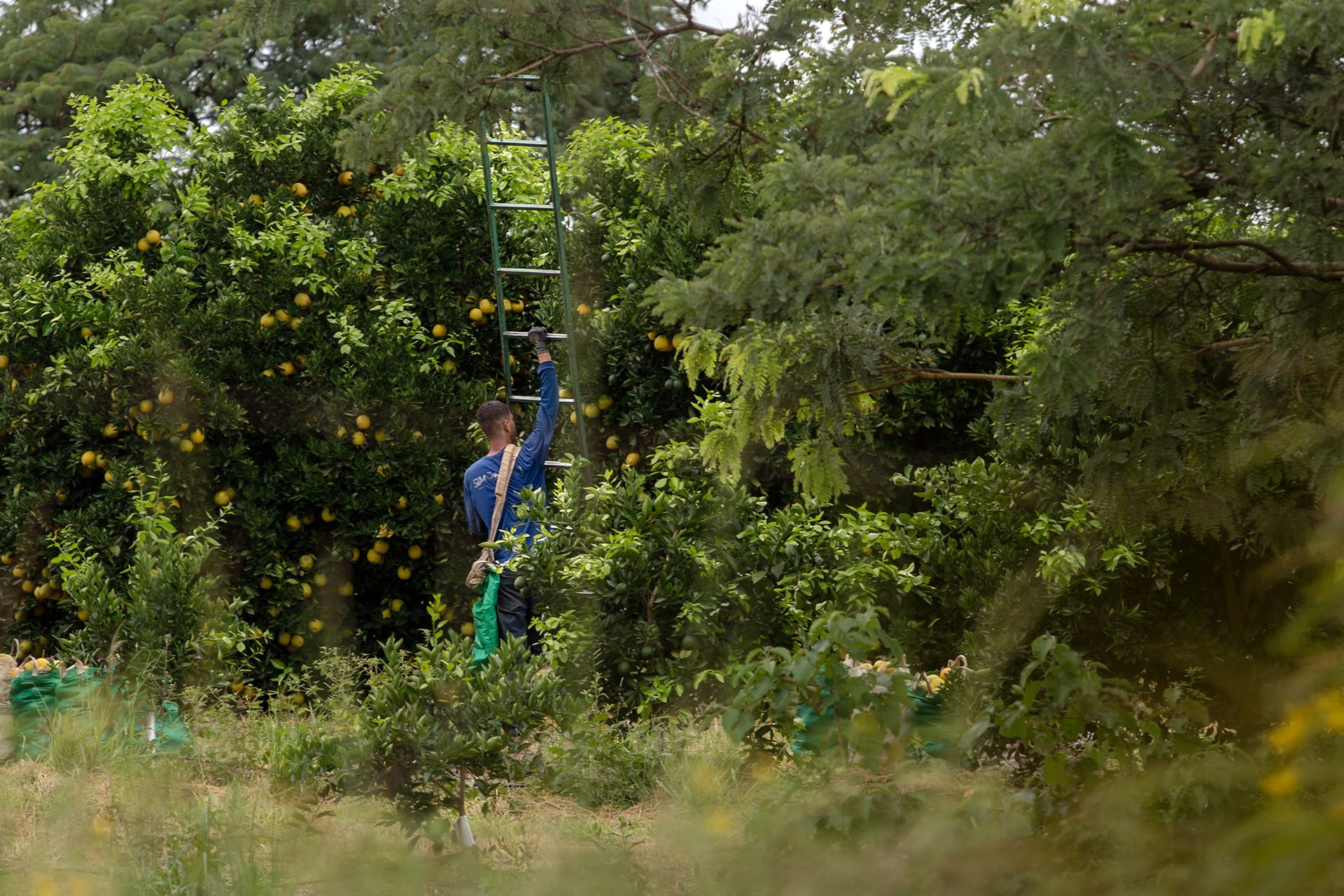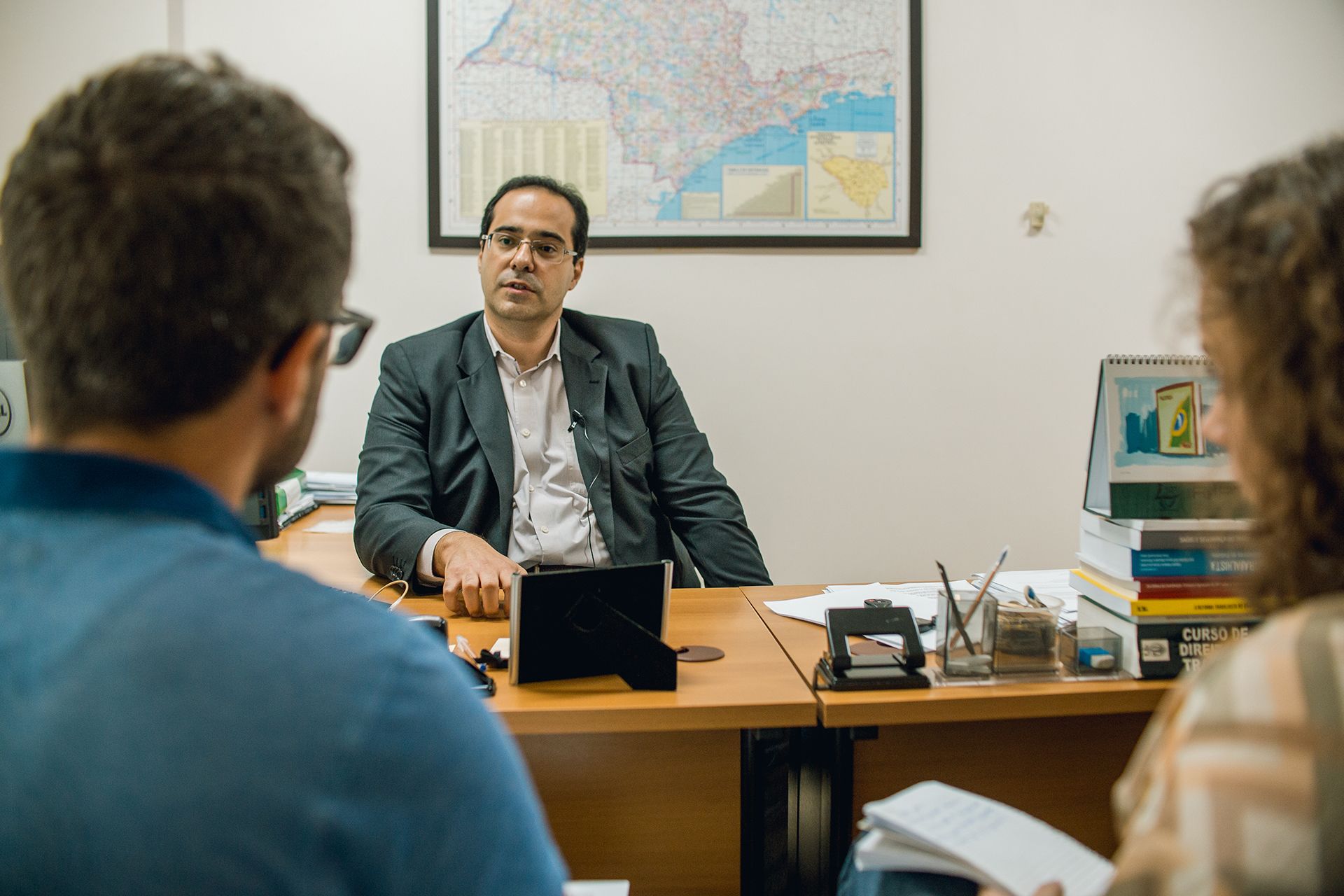 Invisible between plantations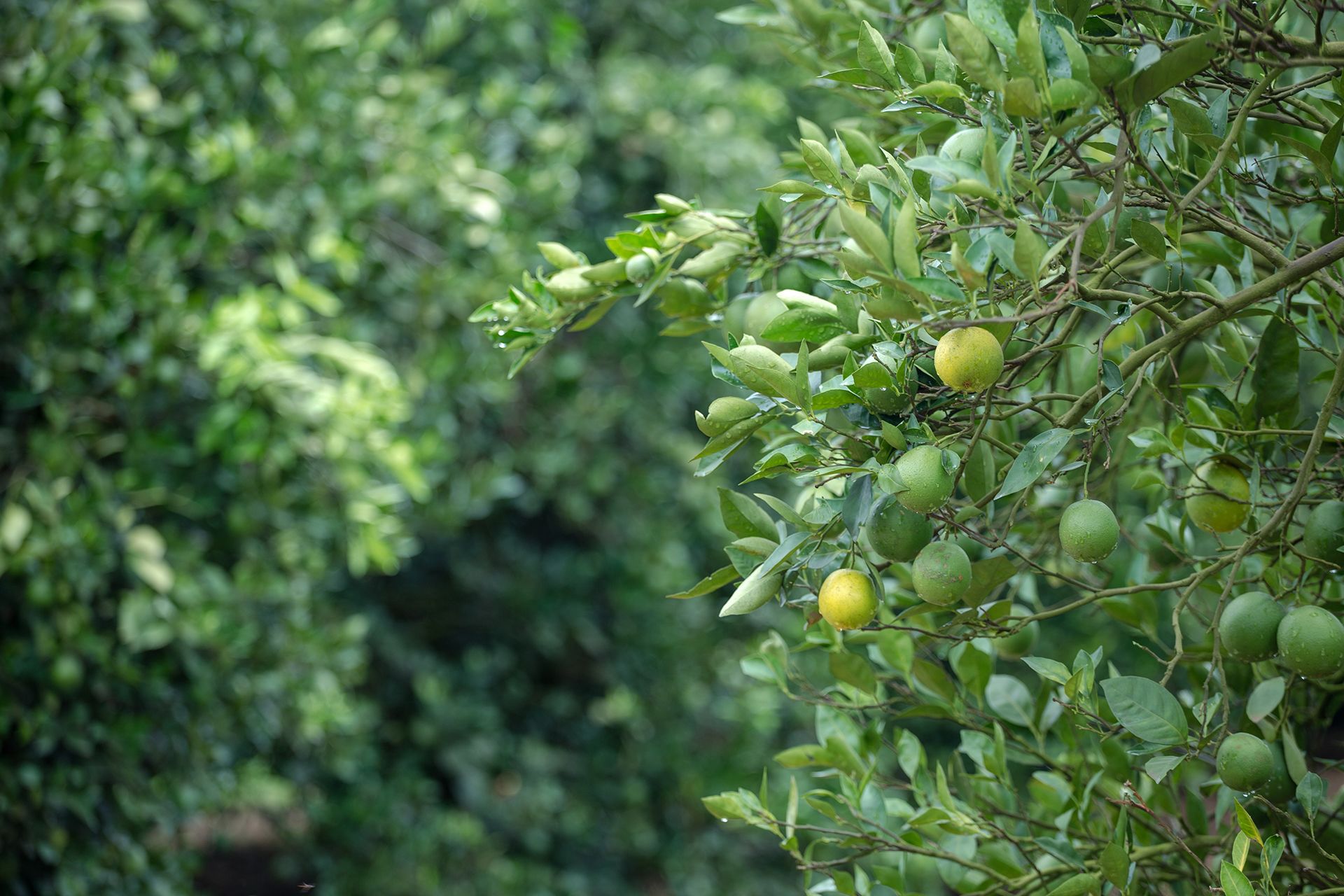 While searching for people affected by such invisible violations, we met Arthur* and Daniel* in basic accommodation used by third-party pickers. They both assured us that their employer supplies LDC, and that for the past week they had been working illicitly for a wage fully dependent on productivity. Daniel claimed that he had never missed a day of work and that he carried 120 boxes a day. Some people allegedly earn less than 1000 reals (CHF 180). "If you don't pick anything, you don't get anything", he said, a cigarette hanging from his lips.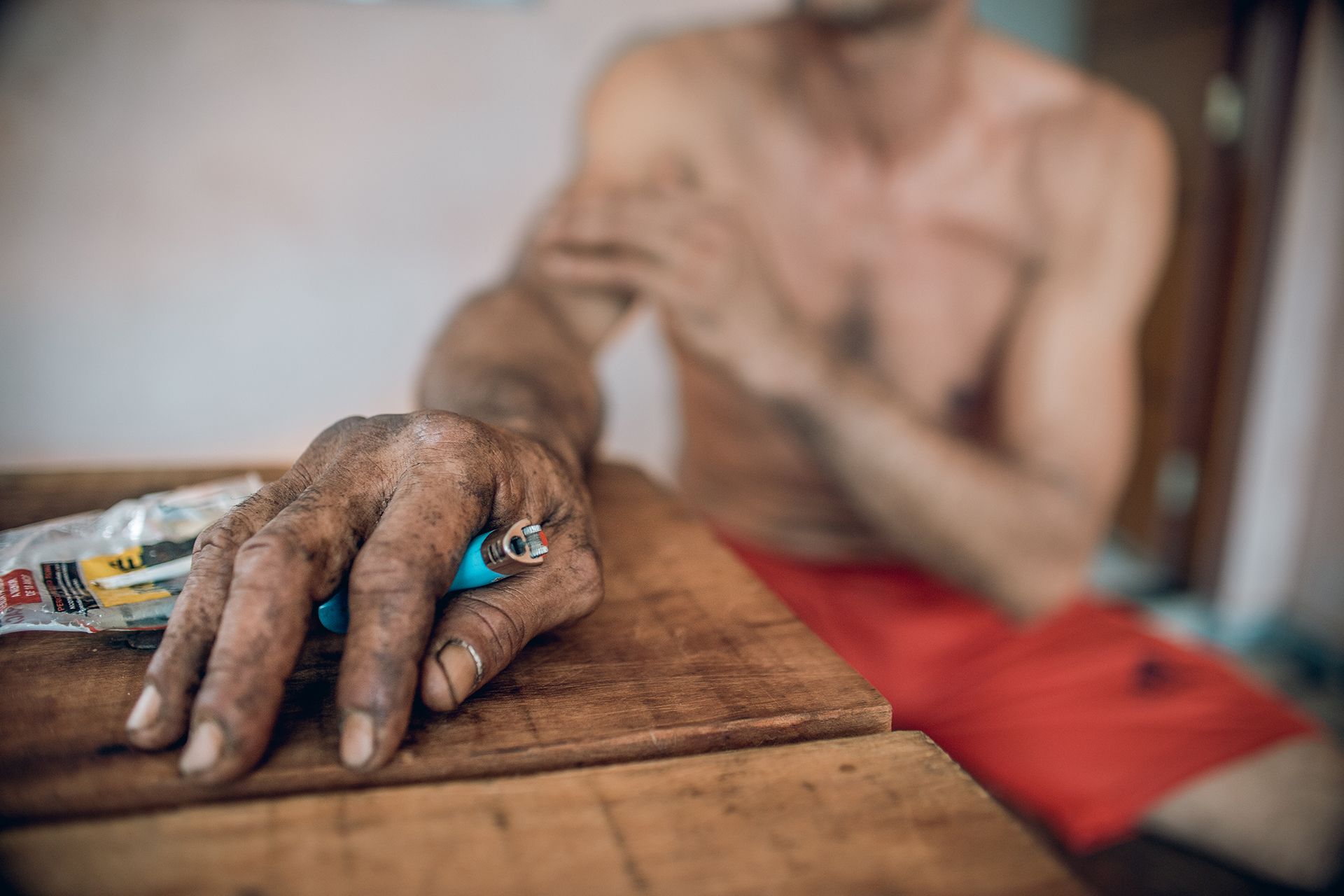 Daniel (name altered) carries 120 boxes of oranges every day.
"The work is very hard; you have to train like a boxer." Arthur is 19 and still has a childish grin and – as if one needed a reminder that life is hard – a trace of a bruise at the corner of his eye. He told us that he wanted to work so that he could afford medicine "in case I get ill" as well as "to have a bit more put aside back there".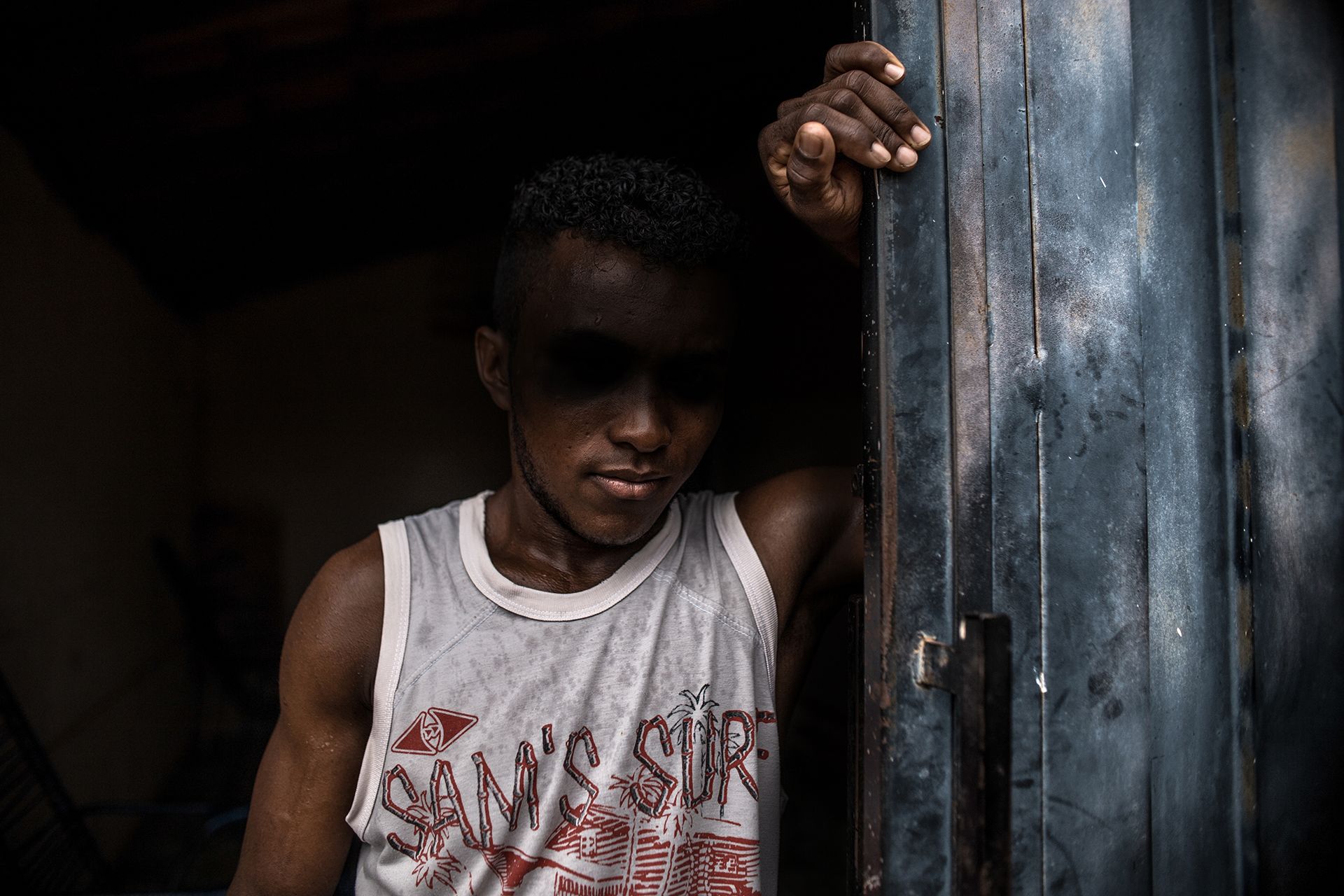 "I work a lot and earn very little", laments a picker who spent three days on a bus to find work in São Paulo.
"Back there" refers to north-eastern Brazil. Arthur and his eight co-tenants are from Salvador and Aracaju. They live in three bedrooms with worn-out mattresses and two fans. Natives of São Paulo call them "the migrants"; they were recruited by gatos, agricultural labour brokers, and transported thousands of kilometres from their hometowns to earn 1200 real "in the best months", and often less. Their weekly pay slips show a range of 260 to 360 reals – 65 Swiss francs at most.
The multinationals do not have to worry unduly about the low wages. The 53 million inhabitants of the struggling north-eastern part of the country constitute an endless pool of workers. "There will always be people who are happy to come. The gatos make them promises that they never keep", says Aparecido Donizeti, president of the trade union Agudos in the state of São Paulo.
The Public Prosecutor Rafael de Araujo Gomes considers this an organised system designed to keep the judiciary at bay.
"It is in the interest of the multinationals to hire gatos or set up third-party entities. The more intermediaries they can place between themselves and their workers, the harder it becomes for the judiciary to prove their responsibility"
LDC affirms that it no longer uses gatos. "The pickers from the north-east are employed and registered onsite by LDC employees", notes a representative. The multinational also states that in addition to its employees' wages, it offers them a basket of food and food vouchers. A form of "charity" towards the pickers which, however, raises questions about the purchasing power of the company's pickers.
Workers from the north-east who are rarely unionised and, as we saw for ourselves, often partly or completely illiterate, find themselves far from home and completely dependent on their employer, who is in charge of getting them back home after the safra.
A final PowerPoint for the road
Eventually, LDC admitted us onto one of its plantations to show us a PowerPoint presentation and introduce us to six pickers in gleaming blue outfits. The company admits that it is quite powerless when it comes to working conditions at its suppliers. "We ask third-parties to follow our good practices", says a representative "but the company does not carry out site visits because we are not the police." Yet in its written response, LDC headquarters gives us a different version: "Our field teams monitor the operations of suppliers through frequent visits."
These "good practices" include making pickers pay for their accommodation. LDC first claimed that its pickers only make a "symbolic" contribution towards their accommodation costs, before later stating that it was a "cleaning tax". The pay slips that we consulted nevertheless contain a category marked "accommodation", for which the workers pay LDC 75 reals per month and a supplier 100 reals per month. Multiplied by the number of residents, the total rent does not appear particularly competitive when based on the prevailing cost of living in the state of São Paulo.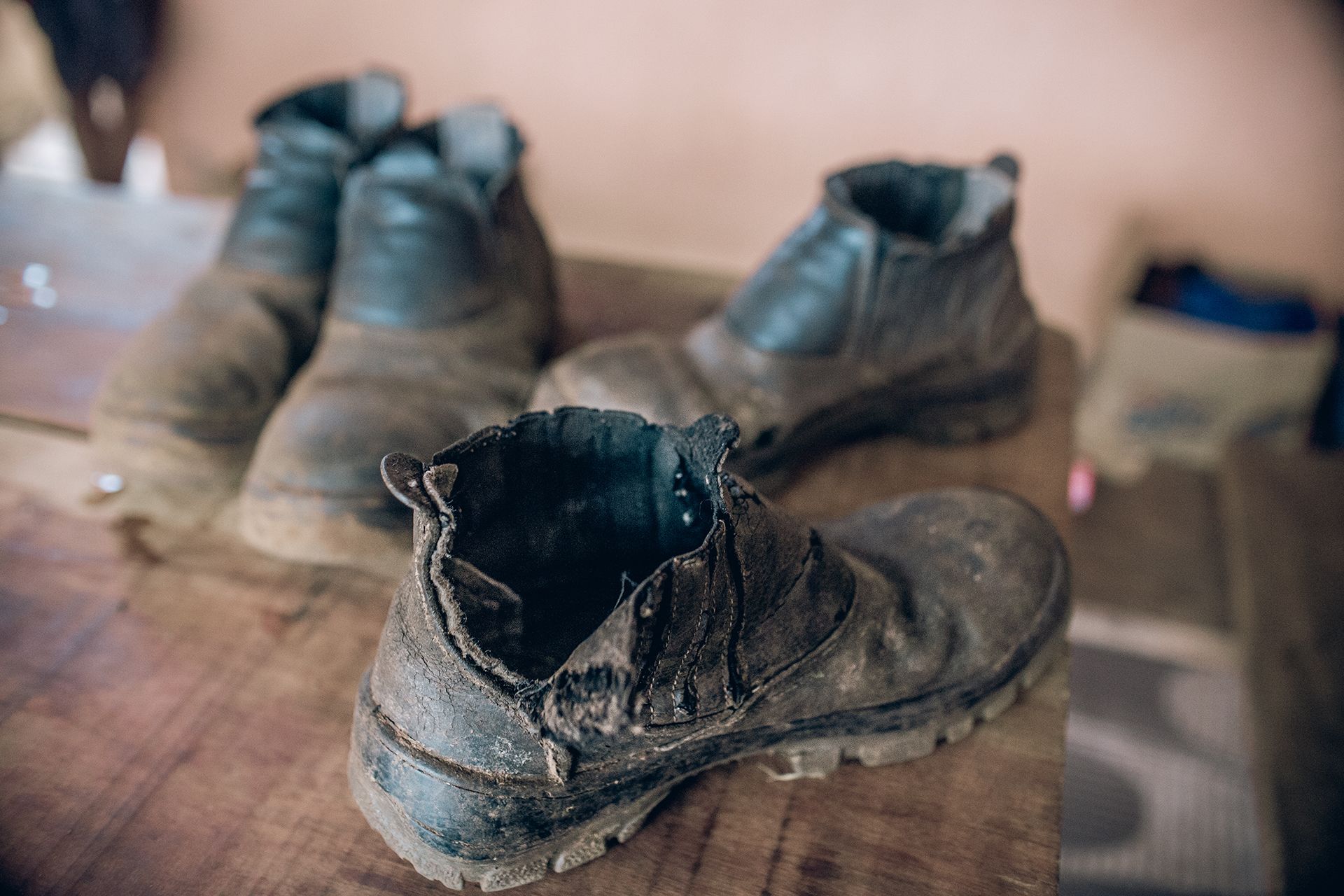 The worn-out equipment is a testament to the dreadful working conditions.
In the LDC pickers' shack, Carlos continues to peel oranges without stopping. He says that he has never missed a day of work, despite his arthritis and faulty dentures. "I work with the help of God", he says, clenching his jaw. Unlike other LDC workers, orange pickers do not get access to the companies' health benefits, as if no one within the multinational was concerned about the long-term impacts of the safra on seasonal workers' health.
If Carlos missed his last visit to the doctor, it's also because the 38 Real of compensation he gets in exchange for a medical certificate is less than what he earns in a day. If he were to decide to visit the local hospital in Bebedouro, he might be offered a glass of orange juice! At the end of April, LDC donated 4000 litres to the hospital in the wake of the coronavirus crisis. The timing of the pandemic coincided with the end of the safra when LDC sent home its workers from north-eastern Brazil. The multinational is currently recruiting pickers for the next safra with the support of a medical team. Harvesting oranges leaves a bitter aftertaste.
* Names have been altered.
All exchange rates to Swiss Francs from April 29, 2020.
In the Brazilian citrus sector, women make up only a small portion of workers (about 30% in the harvest). However, where there are women, they often perform some of the most precarious activities. Unfortunately, during our visits to the pickers' accommodation, we were only able to speak to male workers.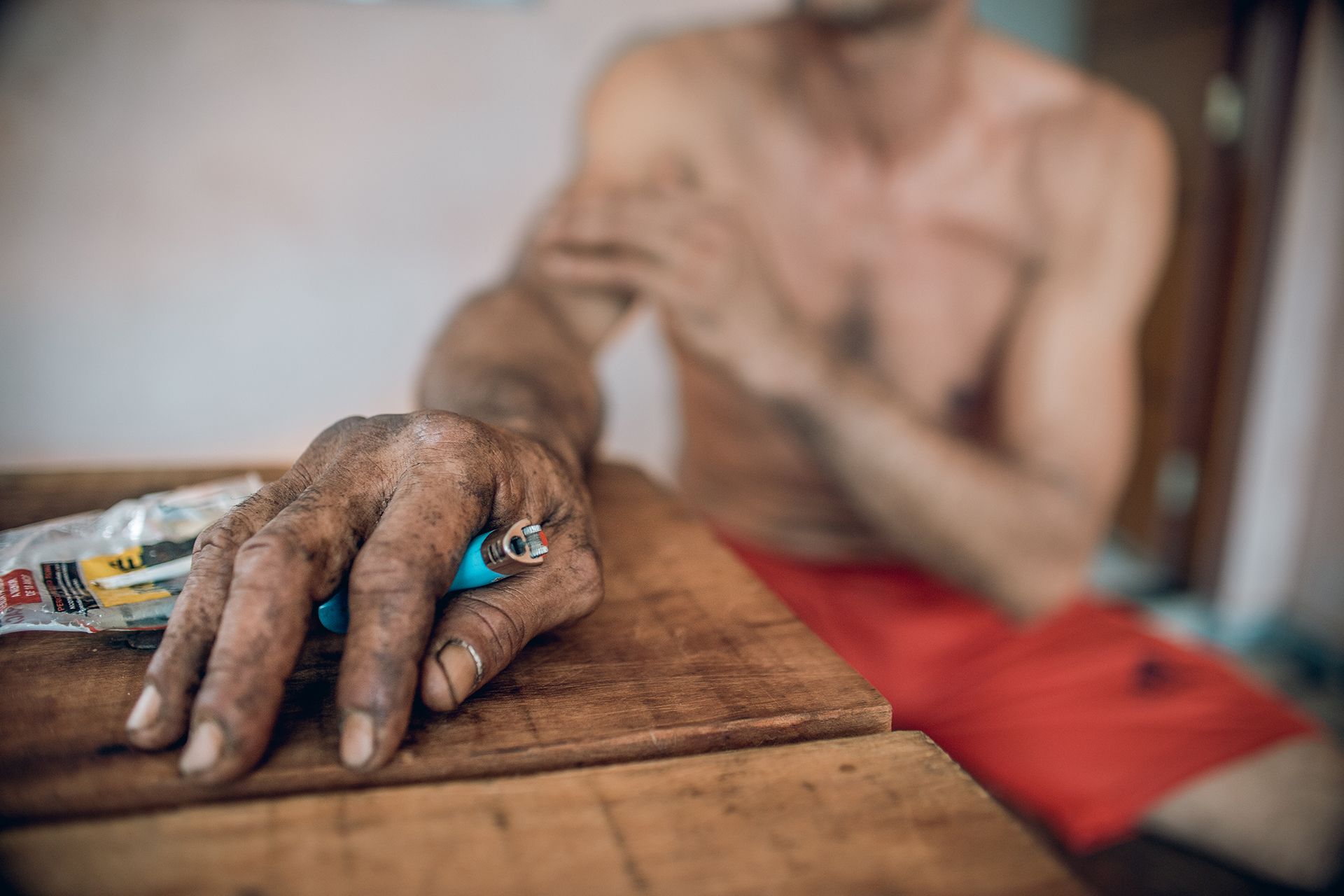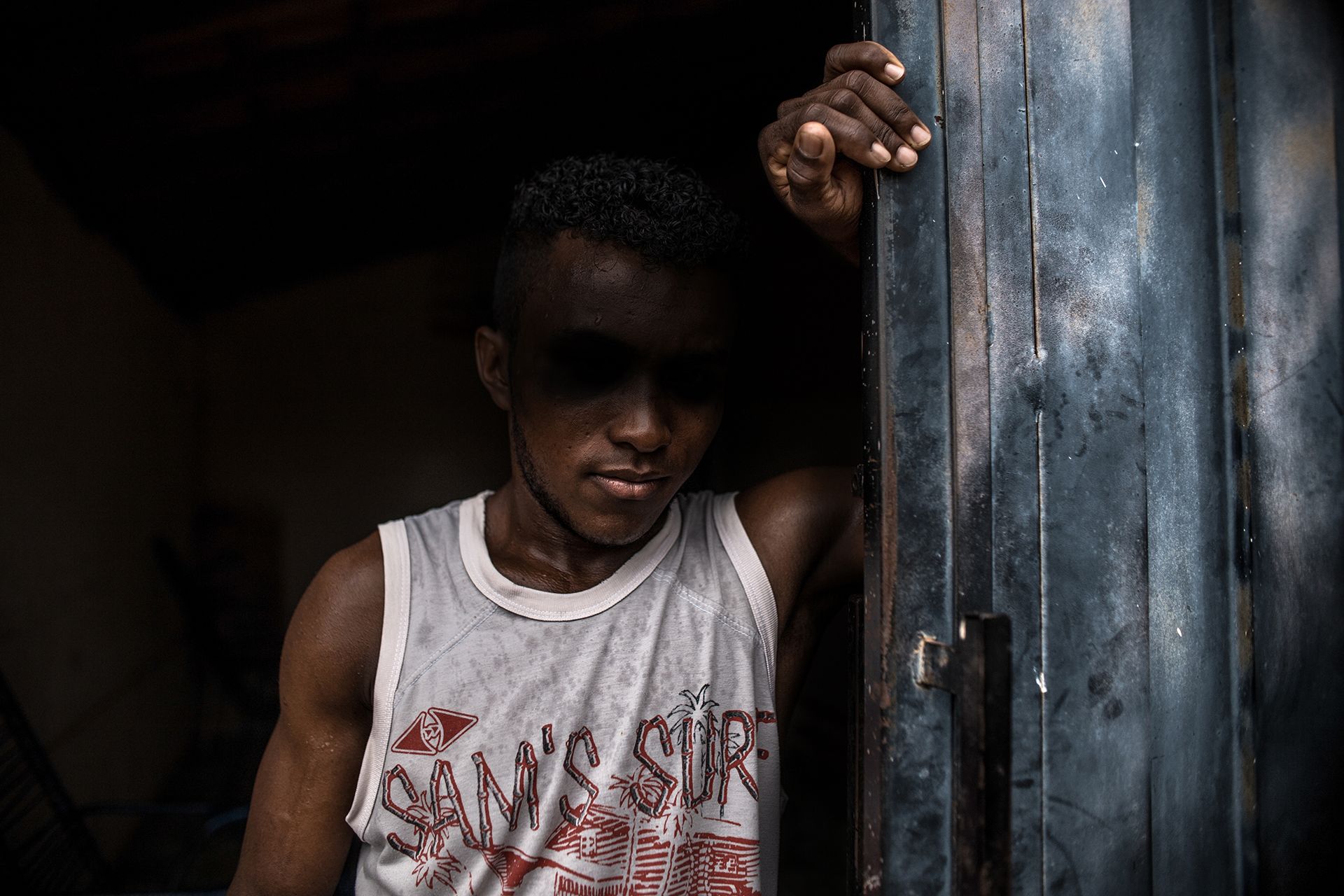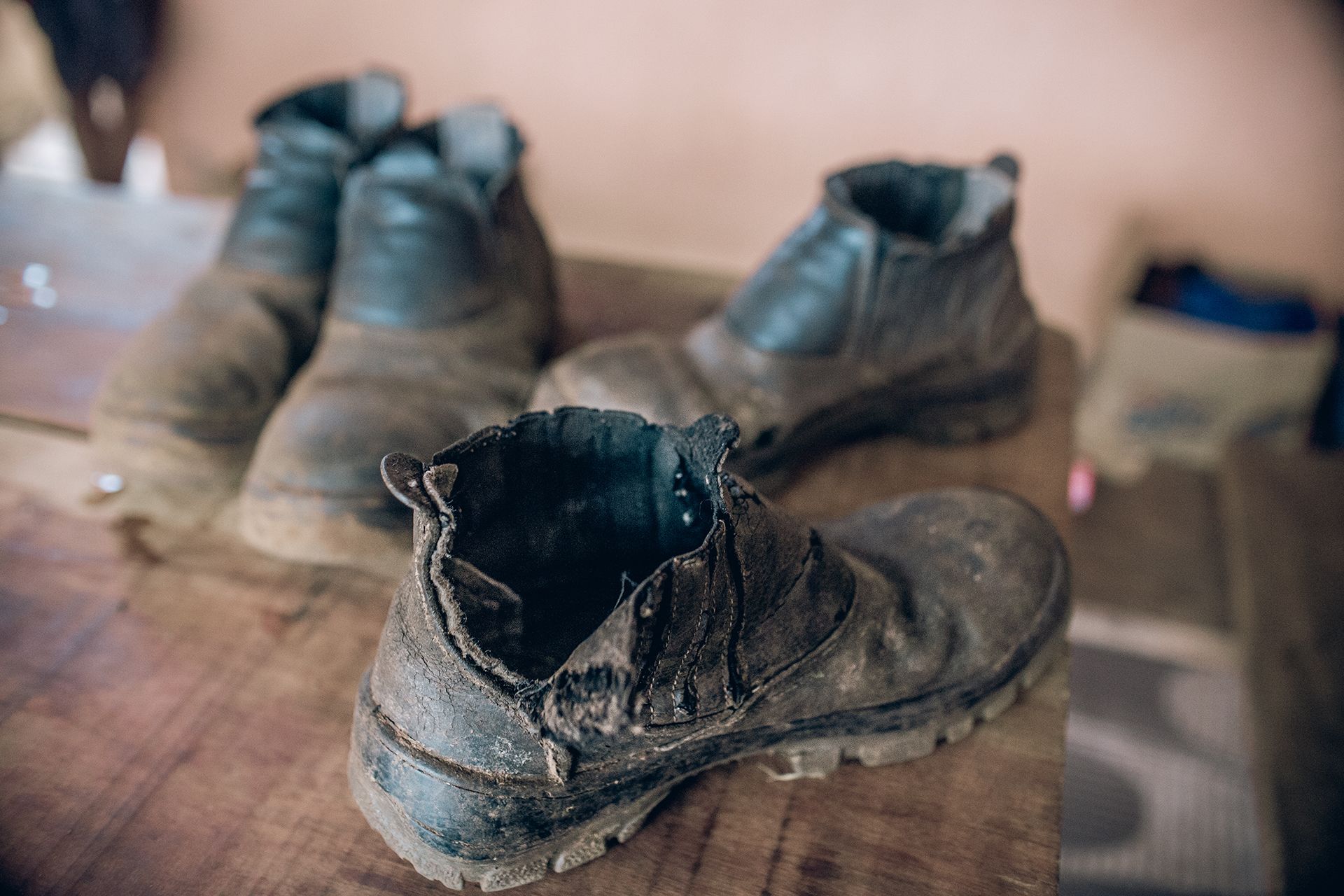 Focus on Global Justice
Public Eye campaigns to ensure that Switzerland, as well as Swiss companies, live up to their responsibility to respect human rights worldwide. Reports like this one are only possible thanks to the people who support us. Make a donation.
ImprintReport: Adrià Budry Carbó; Collaboration: Daniela Penha (Repórter Brasil); Translation: Kim Park; Editing Report: John Durham; Photos & camera: Marcos Weiske; Video Editing: Maxime Ferréol; Music: Samira Zeber, Alexandre Gonçalves, André Carbonari, Bruno Barbosa & Carlos Weiske; Online adaptation: Daphne Grossrieder
Disclaimer: This text is available in three languages. In case of any discrepancy between the different versions, the German text will prevail.